Boundless good
16.11.2018
Back
On November 12, in the framework of the V Great Ball of Philanthropists, held at the Ivan Franko Academic Music and Drama Theatre in Zhytomyr, there was the ceremony of awarding the best philanthropists of Zhytomyr region, including public figures, charitable organizations, entrepreneurs, patron of arts, MPs of the regional and city councils. Rud was also acknowledged and granted the medal "For Charity."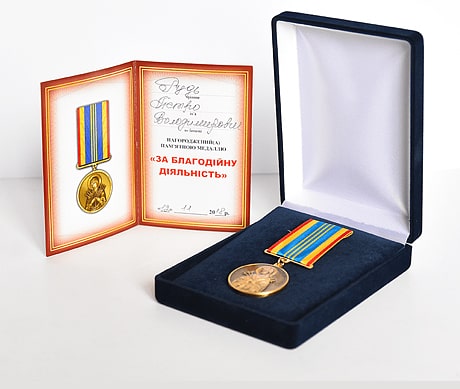 The ball organizers — Vse Robymo Sami, NGO — noted that the charity geography grows year by year, because good deeds do not have limits or borders.
We recall that in the spring, Rud took the first place in the Charity Business category and won the contest "2017 Charitable Zhytomyr Region." Charitable Zhytomyr Region is a regional stage of the national contest "Charitable Ukraine" — the only nationwide project recognising the best philanthropists and the most effective charity initiatives.
For many years in a row, Zhytomyr Butter Plant and Petro Rud have personally taken active part in tackling social problems (supporting vulnerable segments of the population: orphans, the elderly), improving the financial condition of health care institutions, charity projects in sports, culture, education, and faith sphere.
A number of requests for help come to Zhytomyr Butter Plant every day — it's dozens of letters from organizations or individuals. The requests are different, the needs are different, but we try to help as many people as possible.
Most of the targeted assistance is provided by Rud in the monetary form, but it also gives a lot of products or services. We pay particular attention to the children and ATO soldiers, allocating funds for their further rehabilitation.
It's nice to be trusted. Words of gratitude inspire and invigorate to move forward and seek the necessary resources. When you enter upon the path to charity, you assume great responsibility: there are certain expectations you should live up to. It's a thorny road, where you cannot stop. And it's never late to start.
Awards once again remind that you can't give up what you have started, that someone is waiting for your help, compassion, sympathy, or just attention and love. Most of those who have committed themselves to bring good to people, however, do not need titles or regalia, because the main thing is that their efforts make the world around a little better, and those seeking for help or support receive it.