Petro Rud: on his love to ice cream and his business
11.09.2020
Back
Petro Rud, Chairman of the Board of Zhytomyr Butter Plant JSC, is a talented entrepreneur and active philanthropist, whose name has been a symbol of Zhytomyr for a while now.
In his interview, Mr. Rud told about his biggest childhood dream, love for ice cream, principles of raising children and secrets of success of his company, Rud.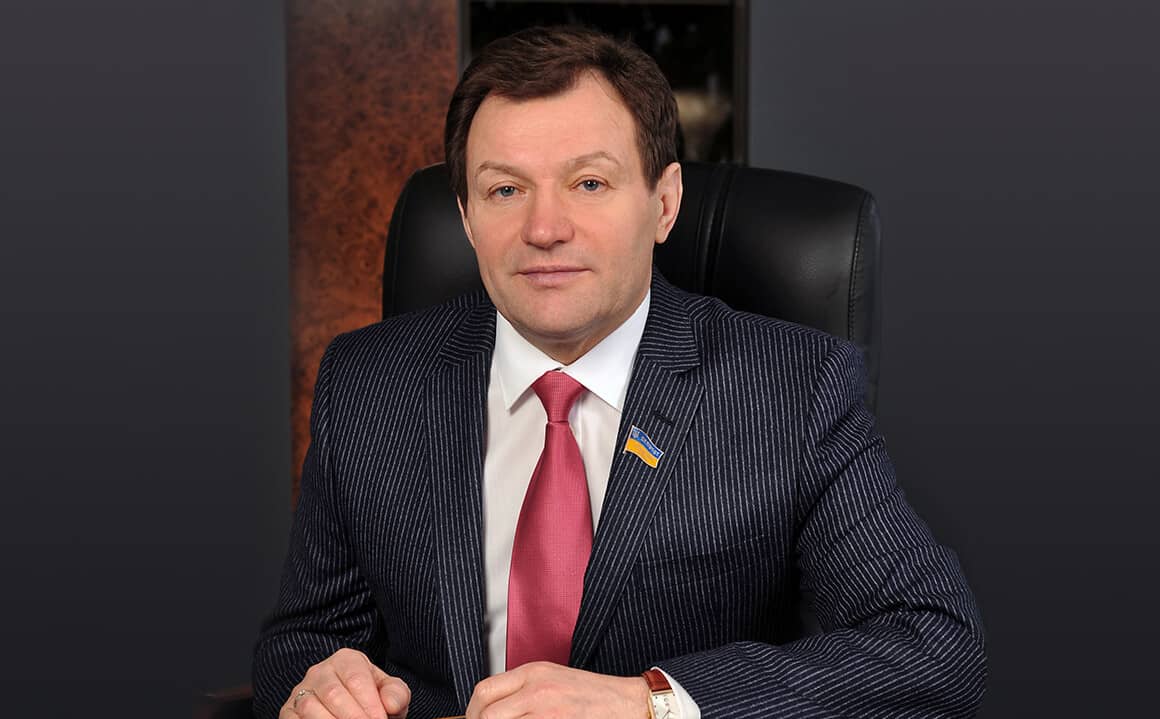 "Mr. Rud, you are from the Romaniv district. Tell us about your childhood, your parents. What are the highlights you can remember?"
"I was born in Zhytomyr region in an ordinary rural Ukrainian family. My mother, Nadiia Maksymivna, and my, father Volodymyr Ilarionovych, raised us, three sons and a daughter, in love. Adults usually remember their childhood as a bright, joyful time. And I am no exception. As children, we had many happy days. There was time for fun, but at the same time we were constantly busy with our housework. Since childhood, our parents taught us hard work and responsibility."
"What sweets did you enjoy as a child?"
"Oh, we loved sweets as children! I've always loved honey as well as ice cream. I'm always recalling the ice cream from back then. At the time, no one could even imagine such an enormous range of sweets that is on sale now.
I remember us kids standing in line, watching the saleswoman pouring those coveted treats out of the can into cups. Everyone was waiting for their turn. And then the real pleasure began… I also really liked soda with double syrup."
"Do you remember the moment when you tried ice cream for the first time? Did you like it?"
"As a child, I had a dream to enjoy ice cream to my heart's content. I remember my older brother buying us ice cream with the first paycheck he earned during the summer holidays. Seven packs of ice cream were my personal record. I remember these feelings — and my soul gets warmer. Such happy moments are never forgotten."
"And now, do you eat ice cream often? What kind is your favourite?"
"I eat ice cream quite often. We have a lot of tastings at the company. In addition, when visiting international exhibitions, I have to taste a large number of varieties of ice cream."
"There are many types of ice cream in the world: Italian gelato, Turkish dondurma... Which one do you like the most?"
"I really like ice cream as a product. So in every country I visit, I taste local ice cream. I really like Italian gelato — it is hard not to love it. Whenever I can, I also buy dondurma, a unique Turkish ice cream made of goat's milk with added sugar, fruit or fruit syrups.
But most of all I like ice cream by RudTM. We offer more than 150 types of ice cream. In recent years, our company has successfully increased exports of its products to almost 30 countries, including to the USA, Lithuania, Latvia, Estonia, Germany, Poland, Czech Republic, Greece, Thailand, Bulgaria, Croatia, Iraq, the UAE, Kazakhstan, Azerbaijan, Armenia, Georgia, Moldova, Israel, Turkmenistan, Vietnam and China, Bosnia and Herzegovina, the Seychelles, the United Kingdom. Different countries have different tastes."
"What was most important for you in the education and upbringing of your children?"
"I like an old Indian saying:
Sow a thought and you reap an action;
sow an act and you reap a habit;
sow a habit and you reap a character;
sow a character and you reap a destiny.
I sincerely believe that by developing the right habits and strong character in our children, we can change their destiny and the destiny of the whole nation for the better.
I believe that diligence, determination, honesty, decency, responsibility, ability to improve themselves and hear others are the character traits of a successful person. It was these traits that I tried to instil in my daughter. And now I keep reminding my grandchildren that there are success factors to keep in mind:
work for the result,
full commitment to the work you do,
living on the principle: 'The doors will be opened to those who are bold enough to knock',
move to the goal step by step."
"All Zhytomyr residents love your Ice Cream Festival. Please tell us how you came up with this event."
"Our Ice Cream Festival is a project that was created for children and for the benefit of children. This is a family event that gives families the opportunity to have fun and enjoy spending together. Since 2004, the festival has been held annually, and we have never cancelled it. Only this year, we cannot conduct the festival due to the quarantine resulting from the pandemic. But we understand well how important it is not to deprive children of joy, happy emotions, friendly communication and family comfort. What we can do as a socially responsible company is to bring happiness: as unforgettable smiles and the most delicious ice cream!"
"Those who managed to visit your plant are most excited about tours around your production sites. Are you conducting them now? How can one get on a tour of the company and learn the secrets of making #1 ice cream in Ukraine?"
"After a comprehensive reconstruction, we started corporate tours. In 2018, 623 tours for more than 18,000 visitors were conducted. In 2020, the company was visited by more than 16,000 people, ad more than 646 tours were conducted. Students and schoolchildren from different regions of Ukraine, representatives of organisations, Zhytomyr residents and guests, ambassadors from different countries, visitors from abroad had the opportunity to learn the secrets of making #1 ice cream in Ukraine and enjoy it to the fullest. However, due to the quarantine, the tours are not currently conducted."
"In what direction does the company's team work today?"
"Now is the active season. Through the efforts of production, technological and marketing divisions of the company, we have launched many new kinds of ice cream and frozen semi-finished products this year. The company's professionals develop novelties in all product groups: ice cream, whole milk products, frozen vegetables, semi-finished products, frozen bakery products, etc. Rud is committed to be the first to enter the market with innovative products, to improve quality and business processes.
Today, Rud is the leader of the ice cream market in Ukraine. We have put a lot of effort to reach this position, but we understand that we need to work continuously to maintain this position. Therefore, the company is in constant search, which allows the company to develop."
"You are known and loved not only in Zhytomyr region and in Ukraine, but also abroad. You have been a local deputy for many years. Do you have a desire to become an MP at the Verkhovna Rada?"
"Time will tell."
"You are one of the hundred wealthiest people in Ukraine. You are considered to be the richest man in Zhytomyr. But at the same time, you are a surprisingly modest millionaire."
"I support transparent business, fair payment of taxes, official salary, development of enterprises. Zhytomyr Butter Plant JSC is one of the largest taxpayers in Zhytomyr region and one of the major philanthropists. In 2019, we paid about UAH 183 million in taxes and fees, as well as almost UAH 30 million in the first five months of 2020. Our company constantly creates jobs, pays salaries to its employees on time.
As for our charity work, Zhytomyr Butter Plant JSC supports socially vulnerable groups and implements projects in sports, cultural, educational, spiritual fields. Most of Rud's targeted assistance is provided as financial contributions. We pay special attention to children, retirees and help our soldiers in the anti-terrorist operation zone, including payments for their further rehabilitation.
This spring, Rud donated a modern S1100 lung ventilator to the O. F. Herbachevskii Regional Clinical Hospital to save the lives of ill Zhytomyr residents. Furthermore, more than 2,000 special-purpose overalls were provided to medical institutions of the city and its district."
"Your ice cream statue near the Zhovten Cinema is one of the most memorable hallmarks of our city. Please tell us about its history."
"The ice cream monument was unveiled on 17 April 2013. The sculpture is made of granite and, according to the architects, can withstand even a magnitude 8 earthquake. The structure has already received a 'residence permit' in the Book of Records of Ukraine as the first ice cream statue in Ukraine!
The architectural object was built based on the sketches by Artem Mykytenko from Zhytomyr, who won the sketch competition. Artem's work was chosen from among 1,500 submitted works. Architect Stanislav Krynytskyi brought his ideas to life.
The sculpture is over three meters high and weighs over 14 tonnes. It is surrounded by a platform shaped as the Rud logo. All elements are made by hand. It was not easy to make a sculpture out of granite. The work is unique. The main challenge was to find a solid, undamaged giant block to make the bowl for the balls of ice cream.
The sculptural composition is made of four types of granite, mined in the following quarries:
Leznykivskyi (the pink scoop representing berry ice cream),
Tokivskyi (the light brown scoop representing Milk Chocolate ice cream),
Rohivskyi (the greenish scoop representing Pistachio ice cream),
Pokostivskyi (the white scoop representing Plombières with Chocolate Drops ice cream."
"What is the secret of success of Rud ice cream?"
"Team work and determination."
"Please tell us about your interests. Do you have a hobby? What books do you like to read? What music are you listening to? What is your favourite movie?"
"I love sports, spending time with my family and friends, good old interesting movies."
"What is your biggest dream?"
"Peace and harmony in our country! Prosperous and developed Ukraine!"
"What makes you happy?"
"Happiness in the eyes of my loved ones, spending time with my friends, good results, new projects, gratitude from our consumers."