Suggestion № 1
06.01.2009
Back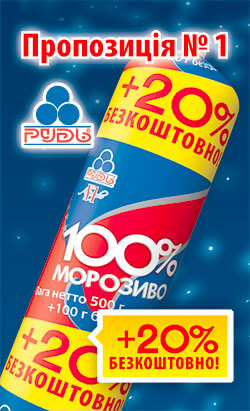 Yummy ice cream can not be enough! And TM "Rud" ice cream all the more. It is the point of most "sweet cold" Ukrainian lovers' view. Ice cream — is a tasty freshness, and exquisite dessert. TM "Rud" makes "Proposition #1" to its consumers. In such shady times you want to have a break, when tasting "100% ice cream" or any other ice cream kind of TM "Rud" you forget all troubles and feel the real delight.
"Proposition #1" — is 20% of free ice cream! For that reason, consumers have a possibility to get 600 g of ice cream by 500 g price. Such proposition is shown as a yellow line on new packaging, where you may read as follows "+20% gratis"
This action will give a chance to increase supporters of our well-known brand "100% ice cream", and family-packing ice cream in particular; it will enhance consumption culture level of weight ice cream.
Yummy ice cream should be enough! Taste cold freshness! Have a tasty mood!