Here Comes an Ice Cream Party 2013
16.05.2013
Back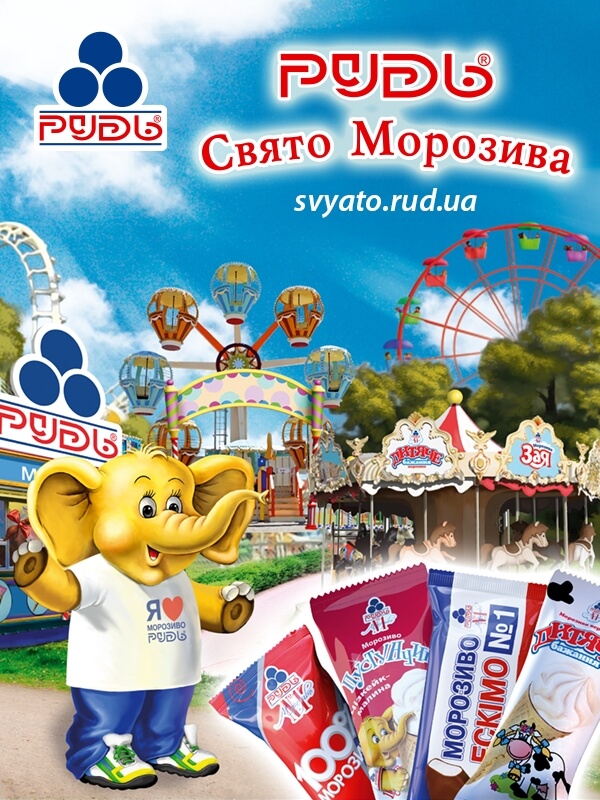 The ice cream, merriment, gifts…it is never too much of them! And the Company of "Rud" knows about it. That's exactly why, just for the seventh consecutive year, adults and kids all over Ukraine are looking forward to meeting with the festive ice cream caravan, side shows and competitions.
An Ice Cream Party gives the best opportunity for nice pastime among your friends or family. The sweetest holiday of the year is waited in more than sixty Ukrainian cities this season. Stay with us as it is always great, delightful and tasty time!
The main yearly sweet event Background, next Ice Cream Parties Schedule, Side Shows, Rudyk Exchange Rate – the internal currency of the event, Competitions and as well the information on previous season Parties – all this can be found on the official website svyato.rud.ua.
An Ice Cream Party is the event attracting vigorous, creative and merry people! The Company of "Rud" provides more chances to show one's worth and win useful prizes.
Hereby we invite active users of vk.com, odnoklassniki.ru and facebook.com to take part in 'The Honorary Guest' Contest. Three winners from three social networking sites in every city shall be given the sweet prize – the ice cream box and exclusive memorable award.
The Best Ice Cream Party Anthem Competition will define the author of the sweetest yearly event main song. Hie yourself to show originality and talent!
The Sweetest Instant Competition will share with an ocean of positive emotions, impressive and what is of great importance – sweet photo instants. Traditionally, the main prize is digital camera. More than sixty finalists will be presented original photo frames. Be among participants of an Ice Cream Party in your city, take part in 'the Instant Photo' side show, find your photo in the cities gallery ' How it was', mark yourself on photo or add a new one. The best artwork from every city will be defined upon results of users voting. The first prize winner will be defined by the competent jury.
An Ice Cream Party 2013 – More merriment, impressions and taste!
See you in your city! We are just on the road ;-)