Milkshake: Traditional Recipe
Back
DESCRIPTION OF THE DISH
Traditional milkshake is a rich milk-and-ice-cream-based cold drink with a delicate creamy taste and light texture.
The sweet and incredibly tasty cocktail is great for refreshing, invigorating and putting you in a great mood. The drink is also very healthy, since milk and ice cream contain calcium that is necessary for our body!
The secret of the balanced taste and light creamy texture of the milkshake lies in thorough blending of all ingredients. You will need a blender, a mixer or a shaker to fill your drink with tiny bubbles.
Condensed milk will enrich the taste of traditional milkshake. For a special spicy aroma, add spices such as vanilla, cinnamon, nutmeg or a pinch of cocoa. You can decorate your drink with whipped cream or berry syrup, a sprig of mint or your favourite berries.
Make a traditional milkshake for breakfast — to go with pancakes or crepes — and enjoy its freshness and attractive thick foam that melts nicely on your lips.
Company «Rud»
Traditional Milkshake with Milk and Ice Cream
For those watching their calorie intake and their body weight, we recommend using skimmed milk. If you would like to add berries and pieces of fruit to the cocktail, pre-treat the mixture with a strainer. This will help get rid of the seeds. The classic milkshake tastes best with fresh croissants, cookies, and gingerbread.
milkshake with ice cream and milk
Beverages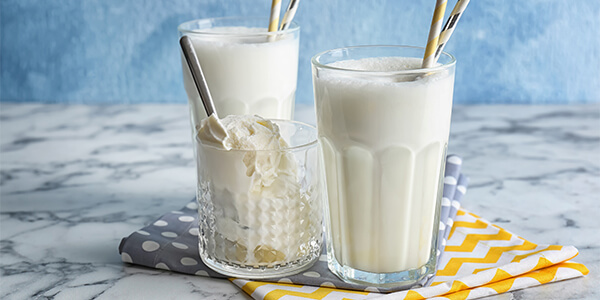 Steps to Make it
Step one
Pour the cooled milk into a blender bowl, add regular sugar and vanilla sugar and Crème Ice Cream by RudTM. Blend the ingredients until smooth and light foam appears on the surface of the drink.
Step two
Pour the cocktail in glasses. Top with whipped cream and garnish with a sprig of mint. You can sprinkle the cream with a pinch of cinnamon or grated chocolate.
Your fresh traditional milkshake is ready! Just serve it!