DESCRIPTION OF THE DISH
Radish is a source of vitamins B, C, PP, potassium, calcium, sodium, phosphorus, and iron. It boosts your immune system and makes your haemoglobin level fall within a normal range. That means that radish dishes should definitely be in your cookbook if you want to make healthy and wholesome food!
Radish, cucumber and egg salad is a classic recipe. Combined with flavourful dressing, this simple and quick mix is a great choice in the summer when fresh vegetables are more readily available and healthier. Radish salad will perfectly complement and add nutrients to your lunch or dinner.
The combination of radishes, cucumbers and eggs goes well with different sauces, herbs, mixed green salad, arugula. Try experimenting, create many interesting variations of this dish and decide on your favourite combination!
Company «Rud»
Vitamin radish, cucumber and egg salad
Radish, cucumber and egg salad is a classic recipe.
salad of radishes
Salads, cold dishes, appetizers and snacks
Ingredients
| | |
| --- | --- |
| Base: | |
| Radish | 300 g |
| Cucumber | 2 |
| Egg | 2 |
| Greens | 1 bunch |
| For the sauce: | |
| Sour Cream by RudTM, 15% | 200 g |
| Lemon | 1 |
| Salt | to taste |
| Pepper | to taste |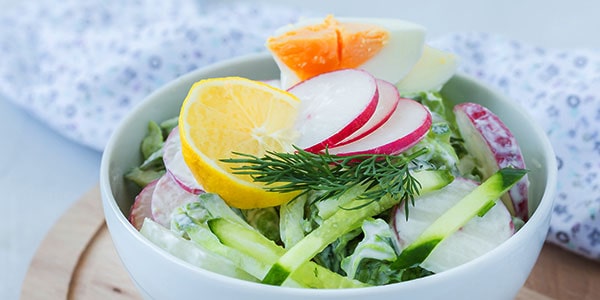 STEPS TO MAKE IT
Stage 1
First, prepare the hard-boiled eggs. Boil them in boiling water for 7-8 minutes, so that the yolk gets nicely yellow. Remove the eggs from the boiling water, cool and peel them. Carefully cut into quarters so that the yolk does not break.
Wash the vegetables, peel radishes and cut them into thin slices. Slice the cucumber or cut it into strips — however you like it.
Stage 2
Cook the sauce. Pour the sour cream into a deep bowl, add a few drops of lemon juice, a pinch of salt and pepper. Mix everything well and season the salad. Decorate it with dill, parsley or a slice of lemon.
Serve immediately, as vegetables can release juice and get soggy. Enjoy!