Cabbage Soup with Sour Cream
Back
DESCRIPTION OF THE DISH
A nutritious lunch for the whole family is guaranteed when cabbage soup boils on the stove!
The Zaporozhian Cossacks also cooked cabbage soup in meat broth, millet and cracklings, seasoned with sour cream and fresh herbs. And rightly so – a plate of this fragrant thick dish gives a feeling of satiety for many hours.
Cabbage soup is not inferior to borscht in taste and richness, but it has its own peculiarities. This soup is cooked using only finely chopped sauerkraut drained of its brine. And the potatoes are often cooked whole, then mashed directly in the pan with a pestle.
Fatty pork or veal is typically used for the broth. And for the lean cabbage soup, mushroom broth is made first and then oil is added.
Company «Rud»
Classic cabbage soup with millet and sour cream
Millet, also known as wheat groats, is an extremely valuable ingredient in cabbage soup. When combined with vegetables and greens, it saturates the body with fibre, helps remove fat and toxins, making cabbage soup good for the figure.

Cabbage soup is served with sour cream and rye bread.
cabbage soup with sour cream
First courses
Ingredients
| | |
| --- | --- |
| Pork | 300 g |
| Sauerkraut | 250 g |
| Potatoes | 4 pcs |
| Carrot | 1 |
| Garlic cloves | 2 |
| Onions | 2 |
| Millet | ½ glass |
| Tomato paste | 2 tbsp |
| RudTM sour cream | 100 g |
| Vegetable oil | for frying |
| Bay leaves | 3 |
| Salt, pepper | to taste |
| Dill, parsley | to taste |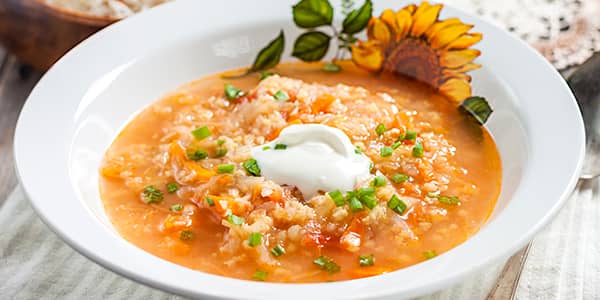 Steps to Make It
1. Cut the meat into large pieces and immerse in a pan of cold water. Bring to a boil, remove the foam, cook on low heat for 40 minutes.
2. Wash the millet, add to the broth. Cook for another 10 minutes.
3. Peel and wash the vegetables. Dice the potatoes finely and put in a saucepan to the broth and millet. Boil until potatoes are cooked.
4. Squeeze the sauerkraut from the brine and chop finely. Add it to the broth with bay leaf. Add salt and pepper. Cook over low heat for another 15 minutes.
5. Grate the carrots, cut the onions into small pieces, chop the garlic. Fry the vegetables in a preheated pan with oil.
Add tomato paste and some water. Stew the vegetables for five minutes and add to the contents of the pan. Mix well.
6. Sprinkle the soup with finely chopped greens and bring to a boil. Remove the pan from the heat, leave the dish to stand for 20–30 minutes.
7. Serve the warm soup in plates adding some sour cream.
Cut rye bread into slices and invite your family to the table – enjoy the delicious cabbage soup and gain strength!