Pumpkin Cupcakes with Ice Cream
Back
DESCRIPTION OF THE DISH
In addition to nutritious porridge and tender cream soup, orange pumpkins are great for light pumpkin muffins. Soft and fragrant, they can brighten even the gloomiest day. Top this exquisite, rich sweet dish with a scoop of our refreshing ice cream to cheer you up.
To make cupcakes, choose a bright orange pumpkin, as it is the sweetest.
Raisins, nuts, dried cranberries or candied fruit can be added to the dough to give the pastries new flavours. Cupcake tops are usually decorated with pumpkin seeds, whipped cream or chocolate fondant.
Treat your family to delicious pumpkin cupcakes: a cosy tea party at home will bring warmth and harmony to your day.
Company «Rud»
Flavourful Pumpkin Cupcakes with Ice Cream
Baked cupcakes do not have a pronounced pumpkin flavour – a great option if you are not a fan of pumpkin dishes. Add some orange peels to the dough, and the smell of citrus will fill your home, reliably masking this 'secret' healthy ingredient.
Pumpkin Cupcakes with Ice Cream
Baked products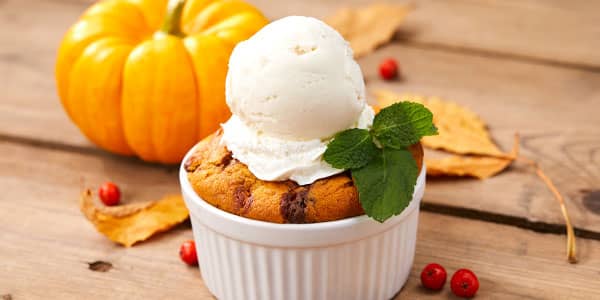 Steps to Make It
1. Bake the pumpkin pulp in the oven for an hour at 200 °C.
Cut into pieces, blend into a purée.
2. Mix the pumpkin purée in a deep bowl and eggs until smooth.
3. Melt and cool the butter. Add it to the pumpkin purée together with the milk.
4. In a separate bowl, sift the flour, add baking powder, regular sugar and vanilla sugar, salt, baking soda and the peel of two oranges.
Pour the liquid pumpkin-milk mixture. Mix thoroughly.
5. Fill baking tins with dough. Spread the peeled pumpkin seeds or slices of pumpkin on top (optional).
6. Preheat the oven to 190 °C, put the cupcakes in to bake for 20 minutes.
7. Take the pastries out of the oven, leave to cool.
8. Remove pumpkin muffins from moulds, put them in wide cups. Garnish with a scoop of ice cream and a sprig of mint.
Enjoy!