DESCRIPTION OF THE DISH
Apple crumble is a fragrant English dessert with a juicy fruit filling and crispy crumbly dough.
"Crumble" means "crumb", which perfectly fits the look of this dish. Instead of a sponge, the base of the pie is shortcrust pastry crumbs or cookies with added butter and slices of sweet apples.
To make the crumble pie, choose hard apples that do not turn into purée under heating. To make the dessert low in calories and even healthier, replace shortcrust pastry with oatmeal. When baked, it becomes crispy and has a subtle nutty flavour. The British like to serve the crumble hot with a scoop of ice cream. The slowly melting ice cream reveals the flavour of the dessert, making it more juicy, fresh and delicious.
Company «Rud»
Apple Crumble: Traditional Recipe
The shortcrust pastry for apple crumble can be stored in the freezer for the whole month. Wrap the dough in cling film and freeze it. When you want to treat yourself again, just grate the frozen dough, put it on a layer of fruit and bake it in the oven.
Apple crumble
Baked products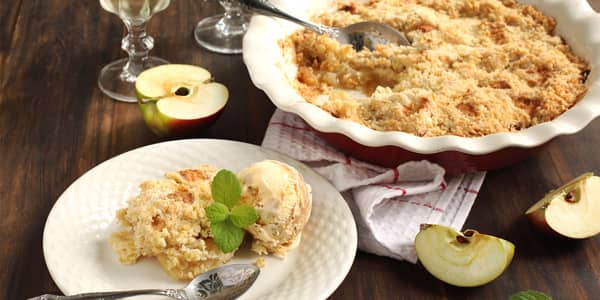 Steps to Make It
1. Grate the cooled butter on a coarse grater. Place it in a deep bowl. Add 110 g of wheat flour, 90 g of sugar, cinnamon and ginger. Mix until smooth.
2. Wrap the dough in cling film and put it for half an hour in the freezer.
3. Peel the apples, remove the cores. Dice them and sprinkle with lemon juice to preserve freshness and colour.
4. Add 100 g of sugar and 30 g of flour to the apples, mix them. The filling is ready.
5. Grease the bottom of the baking dish with vegetable oil, place the apples.
6. Take the dough out of the freezer, grate it on a coarse grater and place it all over the apples.
7. Put the pie in the oven preheated to 180 °C and bake it for 45- to 60 minutes. As soon as the top turns a nice golden colour and the apples turn soft, the dish is ready! Put the apple crumble on plates, add a scoop of ice cream and serve.