Puff Pastry with Cottage Cheese and Jam
Back
DESCRIPTION OF THE DISH
France is famous for its croissants, Austria for its strudels, and Ukraine for its pies! Every Ukrainian family probably has its own recipe for this delicacy.
We offer to make a fragrant puff pastry pie with cottage cheese and jam. It is easy with Rud TM, as we have already prepared most of the ingredients for you: the most delicate wheat dough, organic cottage cheese and juicy berries, grated with sugar. Since our berries are not heat-treated, they retain vitamins and their full fresh flavour and are therefore much healthier than jam.
With its crispy crust, soft fluffy dough and plenty of juicy filling, this sweet pie will bring you real pleasure. You can bake it almost every day and get plenty of compliments from your loved ones!
Company «Rud»
Puff Pastry Pie with Cottage Cheese and Jam
For the filling, use blueberry, apricot or cherry jam. Instead of jam, you can use fresh berries cooked with sugar and starch for five minutes. Cut the baked pie into slices and serve hot with tea, milk or coffee.
Baked products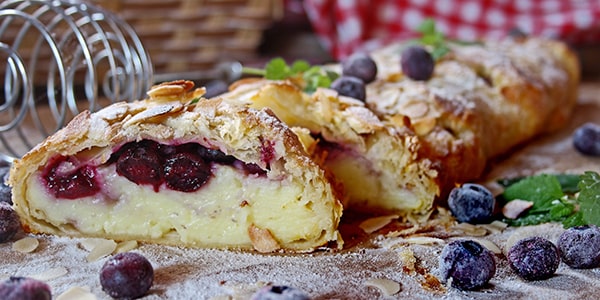 Steps to Make It
1. Whip cottage cheese with sugar and lemon juice.
2. Defrost the dough according to the instructions on the package and roll it out on a sheet of parchment as a 5 mm thick rectangle, 30x40 cm.
3. Put the dough with the narrow side closer to you and divide it lengthwise into three parts. Cut the left and right parts into 1 cm wide strips at an angle of 45°. Keep the middle part intact.
4. Spread the cottage cheese filling in the centre, spread a thin layer of jam or berries grated with sugar. Add some fresh berries.
5. Wrap part of the dough around the filling at the top and bottom. Next braid the strips of dough over the filling.
6. Place the pie while on the parchment onto a baking sheet and grease with an egg beaten with a tablespoon of water. Put in the oven preheated to 190 °C and bake for 20-25 minutes until light golden brown. Leave the baked pie to cool.
7. Mix powdered sugar with milk. Put icing on a cold cake, decorate with berries and almond flakes.
Enjoy!