MEATBALLS IN SOUR CREAM SAUCE
Back
DESCRIPTION OF THE DISH
Meatballs are small balls of minced meat with rice, breadcrumbs, onions, and spices. Unlike regular cutlets, meatballs are always stewed and served with tomato or cream sauce. This combination makes a meat dish more juicy and tender.
You can find traditional meatballs in many cuisines around the world. The Swedes love ketbulars in gravy, the Sicilians enjoy fried meatballs with rice, the Germans like klopses in caper sauce. And the Ukrainians prefer meat balls in tomato or sour cream sauce. Anyone can make meatballs more to their taste by adding veal or chicken to minced meat, substituting rice with breadcrumbs, or making their signature sauce.
Meatballs go well with any side dish: potatoes, vegetables, or cereals. You can make them for both lunch and dinner. To make the dish healthier, stew it in the oven.
Company «Rud»
TENDER MEATBALLS IN SOUR CREAM SAUCE
First courses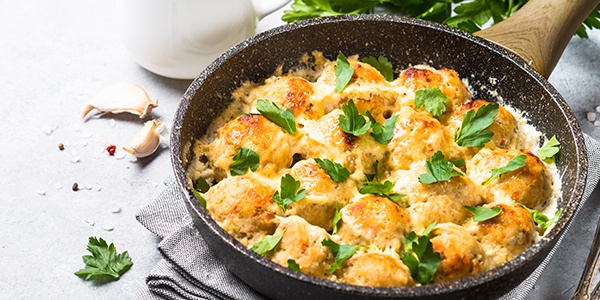 STEPS TO MAKE IT
Stage 1
Cook rice in advance.
Wash the rice and cover it with hot water (1:2), add a pinch of salt, bring to a boil, and cook for 10-15 min. The rice should be slightly hard since it will be cooked some more with minced meat.
Stage 2
Put the minced meat into a deep bowl, add an egg, chopped onions, garlic, salt, and pepper. Add the cooked rice. Mix and pound the mixture for 3-5 min until smooth.
Stage 3
Form small round meatballs. Put them in a baking mould pre-greased with butter. Put in the preheated oven for 15-20 min.
Stage 4
Cook the sauce. Melt butter in a frying pan, add flour, and mix thoroughly. Pour broth or boiled water and add sour cream. Heat the sauce, add salt and pepper to taste. Once the sauce starts boiling, remove it from heat and pour over the meatballs. Bake in the oven for 20 min. Before serving, decorate meatballs with parsley or basil.
Enjoy!