The American Coleslaw Salad
Back
DESCRIPTION OF THE DISH
The Coleslaw salad is a traditional American appetizer made of cabbage and carrots in a number of variations. Some choose tender and sweet taste, while others prefer it hot and spicy.
The main ingredient of the Coleslaw salad is cabbage. Other ingredients can include carrots, apples, celery, onions, nuts, raisins, greens. Every cook can select ingredients of the salad according to one's budget and liking. The dressing for the salad is made on the basis of sour cream and yoghurt with adding mustard, pepper, horseradish, apple vinegar, and other spices.
Coleslaw belongs to dietary and low-calorie dishes, which are an integral part of the healthy and nutritious menu. The salad contains plenty of nutrients (vitamins A, B, C, sodium, potassium, iron, calcium, magnesium), which fill the body with energy and vitality.
Company «Rud»
The American Coleslaw Salad
Salads, cold dishes, appetizers and snacks
Ingredients
| | |
| --- | --- |
| For the main course: | |
| White cabbage | 500 g |
| Carrots | 2 p. |
| Apples | 2 p. |
| Lemon | 1 p. |
| For the dressing | |
| ТМ Rud sour cream, 15% | 200 g |
| Horseradish | 10 g |
| Mustard | 1 tbs. |
| Salt | to taste |
| Pepper | to taste |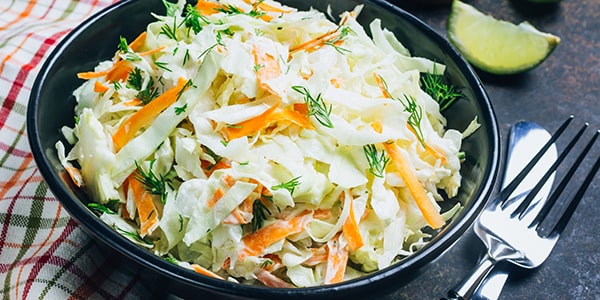 COOKING
Stage 1
At first, cut cabbage into strips. Put cabbage into the bowl, add some salt, and mix.
Wash carrots and apples, peel them, cut into strips, or grate.
Apples should preferably be hard, juicy, and sour— they taste the best in the salad.
After cutting, sprinkle the ingredients with some lemon juice to keep the attractive white colour of the flesh.
Add carrots and apples to the cabbage.
Stage 2
So, let us make the dressing. Mix sour cream with mustard and horseradish, add some salt and pepper. Mix it all well and dress the salad.
It is preferable to serve the appetizer right after making it as vegetables can lose too much juice and soften. Coleslaw tastes wonderfully with baked meat and potatoes. Also, it is a great seasonal addition to grilled dishes!