Panna Cotta: Traditional Recipe
Back
DESCRIPTION OF THE DISH
Delicate panna cotta is a famous Italian cuisine recipe made of cream, sugar, gelatin and vanilla.
This culinary masterpiece was born in Piedmont, the region in northern Italy and is translated as 'cooked cream'.
Sweet creamy jelly resembles ice cream and perfectly holds shape. Every sweet tooth will enjoy and savour this exquisite Italian dessert.
Panna cotta is adored by both true dessert lovers and fans of healthy eating, since high-calorie cream can be replaced with light traditional yoghurt, soy milk or low-fat sour cream. You can also add honey or maple syrup instead of sugar.
100 g of traditional panna cotta contains 223 kcal, which is far less than a similar piece of the Napoleon cake that has almost 400 kcal.
The classic recipe can be enriched with coffee, cinnamon, rum and cocoa, and the finest panna cotta contains lavender or mint.
Fruit and berries can be added to the popular dessert as well. However, be careful: sour fruits facilitate protein folding. And if you add too much gelatin, your panna cotta will turn into a rubbery jelly. A properly cooked Italian dessert is soft and resembles a creamy pudding with a velvety texture inside.
You can make the dessert even more flavoured by adding
delicious sauces such as raspberry, chocolate, caramel, orange...
Company «Rud»
Traditional Panna Cotta with Berry Sauce
Enjoy a special moment of delight with a traditional fluffy panna cotta dressed with raspberry-and-strawberry sauce. A healthy and delicious creamy dessert melts in the mouth so temptingly!
Desserts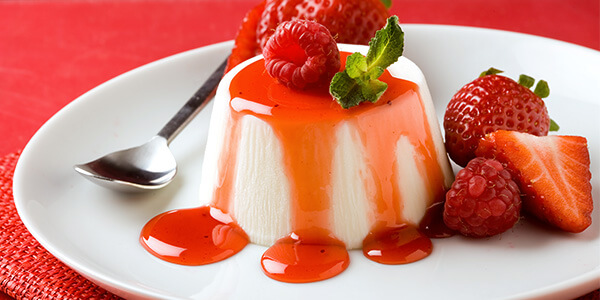 COOKING
Step #1
Soak gelatin according to the instructions on the pack: pour the necessary amount of water into a small bowl, stir in gelatin and set aside.
Step #2
When the gelatin is well soaked, warm it up over a low heat until fully dissolved in water. This stage is extremely important to cook a nice and smooth panna cotta.
Step #3
Blend milk with cream and warm the mixture up. Do not boil the mixture.
Step #4
Add sugar and vanilla sugar to the cream-and-milk mixture. Mix well until sugar crystals dissolve completely.
Step #5
Trickle the prepared gelatin into the cream-and-milk mixture. To prevent tiny crystals from getting into the dessert, drain the gelatin mixture using a fine sieve.
Place the prepared mixture into the silicone rubber moulds and leave for 3 hours in the fridge to set.
Step #6
While panna cotta is setting, cook the sauce. Thaw strawberries and put it into a blender. Add raspberries ground with sugar and blend everything for 3 minutes.
Step #7
Remove the panna cotta from the moulds.
A tip for you: do not taste panna cotta immediately after getting it from the fridge. Leave the dessert for an hour at room temperature for a more flavourful taste and softer and more delicate texture.
Step #8
Dress the panna cotta with a berry sauce. Garnish with mint, fresh berries or fruit slices.
Enjoy!