Berry-and-Cheese Soufflé
Back
DESCRIPTION OF THE DISH
If you are fond of delicate fluffy desserts, berry soufflé based on cottage and cream cheese is sure to please you.
The lush thick whipped cream foam gives this delicious French dessert a wonderful soft texture. The berries give it a tempting honey sweetness and slight sourness. And thanks to the cheese base, this delicacy is also extremely nutritious.
Cherries, strawberries, raspberries, blueberries, cranberries are perfect for making the light cheese soufflé. You can use both fresh and frozen berries.
You can make this berry soufflé in just a few minutes: bake it in the oven, cook in a water bath or add gelatin and freeze.
Drizzle the finished soufflé with honey, jam or grated berries by RudTM, decorate with a sprig of mint – and you will get an extremely tasty and delicious dessert, worthy of serving in the best French restaurants.
Company «Rud»
Berry Soufflé with Cottage and Cream Cheese
Berries can be added to this dessert in two ways. The first one we are suggesting is to lay out the pieces of fruit on the bottom of a mould and pour the cheese mass over them. The second is to pre-blend the berries with a blender and mix with the cheese. In this case, you will get a soufflé of a seductive light pink colour. The sweeter the berries you choose, the less sugar the dessert will need.
Berry-and-Cheese Soufflé
Desserts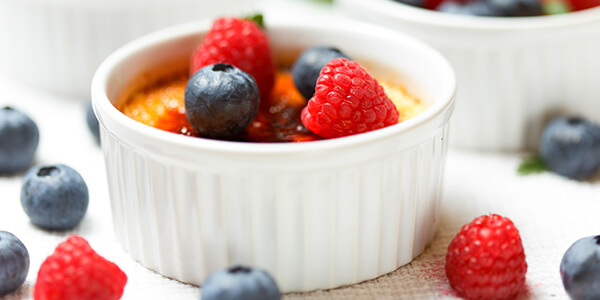 Steps to Make it
Step 1
Wash and dry wipe the lemon, grate the peel.
Step 2
Separate the whites from the yolks and beat with a pinch of salt to a thick dense texture. Put the whipped whites in the refrigerator.
Step 3
In a separate bowl, mix cottage cheese, ricotta and egg yolks. Beat with a mixer until smooth.
Step 4
Add sugar, vanillin and lemon zest to the cheese mass. Add the starch and beat the mixture.
Step 5
Combine the cheese mass with the whites and mix carefully.
Step 6
Grease baking moulds with butter. Put frozen berries at the bottom of each mould. Cover the berries with sweet cheese mass, even the tops with a spatula.
Step 7
Put in the oven preheated to 170°C and bake for 15-20 minutes until light golden brown.
Step 8
Garnish the dessert with fresh berries and add other favourite toppings to taste.
The delicate berry-cheese soufflé is ready! Serve chilled.