Sour Cream Jelly with Pieces of Fruit
Back
DESCRIPTION OF THE DISH
Delicate sour cream jelly with pieces of fresh fruit is an extremely tasty home-made dessert for a bright mood and instant refreshment. It is sure to please your loved ones, as this jelly is perfectly invigorating, unforgettable treat that fills you with vitamins.
For jelly to be fluffy while holding its shape well, it needs high-quality sour cream. RudTM offers it: appetising, delicate, with a pleasant creamy taste — in its range. We make dairy products of the highest quality raw ingredients, so our sour cream is organic, tastes as if home-made, and has a uniform consistency, which makes it perfect for desserts.
Fruit and berries will give a bright palette of colours and juiciness to your jelly. Feel free to experiment, combining common local fruits with exotic options so that the taste of the dessert becomes even more exciting and magical!
Garnish the dish with mint leaves, grated chocolate or a pinch of cinnamon to get a flavourful and beautiful treat for a children's party or a romantic dinner.
Company «Rud»
Delicate Sour Cream Jelly with Pieces of Fruit
To make the base for the jelly faster, use powdered instead of regular sugar. For this dessert, you can use either instant or sheet gelatin. For instant gelatin, add some hot water, stir until the crystals are completely dissolved and add it to the main mass. For sheet gelatin, leave it in cold boiled water for 30 minutes and dissolve over a pan of simmering water. Make sure to prevent it from boiling, otherwise the jelly will not thicken.
Sour cream jelly
Desserts
Ingredients
| | |
| --- | --- |
| Sour Cream by RudTM, 21 % | 400 g |
| Instant gelatin | 30 g |
| Sugar | 1.5 cup |
| Water | 50 ml |
| Vanillin | a pinch |
| Peach | 2 |
| Mango | 1 |
| Banana | 1 |
| Orange | 1 |
| Grated chocolate or coconut flakes | optionally |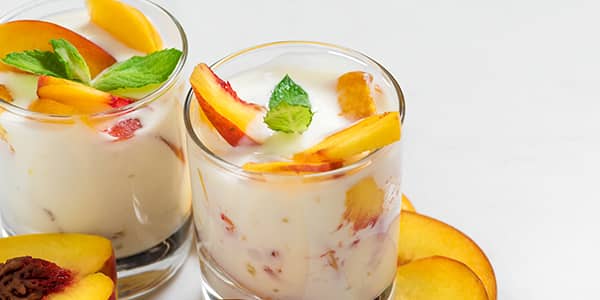 Steps to Make it
Step 1
Peel an orange and a banana, and pit the mangoes and peaches. Dice them finely.
Step 2
Pour sour cream, add sugar and a pinch of vanillin into a deep bowl. Blend with a blender until the sugar is completely dissolved.
Step 3
Slowly add the gelatin into a glass of hot water (about 80°C) and stir until the crystals are completely dissolved.
Step 4
Pour the dissolved gelatin into the sour cream through a sieve and whip again.
Step 5
Add sliced fruit to the sweet sour cream mixture. Stir and pour in dessert bowls, evenly distributing the pieces of fruit.
Step 6
Leave the dessert in the refrigerator for three hours.
Once the sour cream thickens, get the jelly from the refrigerator and decorate to your taste: with grated chocolate, coconut flakes, pieces of fruit or berries.
Enjoy!