Banana Pudding with Ice Cream
Back
DESCRIPTION OF THE DISH
Here is the famous banana pudding: pieces of bananas and cookie crumbs covered with delicate custard and decorated with whipped cream or a scoop of ice cream.
The recipe of this original dessert came from the southern states of America a century ago. However, it has been so popular that nowadays it is served in cafés and restaurants around the world.
Waffles, shortbread cookies or Savoiardi biscuits are usually added to the banana pudding. The best ice cream for this pudding is classic vanilla ice cream or Crème Brûlée The dish is decorated with mint leaves, meringue or chopped nuts.
Company «Rud»
Banana Pudding with Ice Cream
Spread this dessert in layers, like an English trifle, or just mix all the ingredients in one large bowl.

After a few hours, when the cookies absorb the custard and ice cream, and vanilla and bananas give off their delicate flavour, you will have a delicious dessert for your whole family to enjoy.
Desserts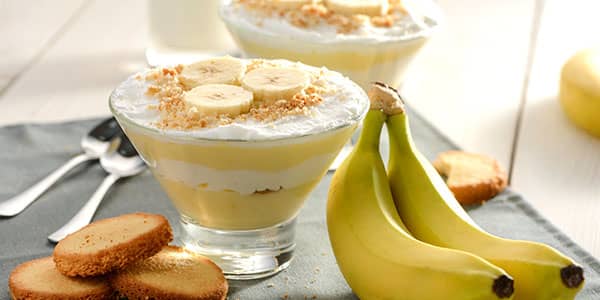 Steps to Make It
1. Pour milk into a small saucepan and add the sifted flour.
2. Use the mixer to beat the flour and milk until any lumps are completely dissolved.
3. Separate egg yolks from egg whites. Put egg yolks in a separate bowl, add regular and vanilla sugar. Mix well.
4. Add the mixed sugar and eggs to the mixture of flour and milk. Beat the mixture until smooth.
5. Put the pan on low heat and warm the mixture for 2 to 3 minutes, stirring all the time.
6. When the paste thickens, remove the pan from heat. Add butter to the mixture and mix. Wait until the mixture cools.
7. Cut one banana into pieces and put them in a blender bowl. Spread part of the pudding from the pan and blend the ingredients for a few minutes until creamy.
8. Slice the remaining banana, crumble the cookies into small bits.
9. Spread bananas and cookies on the bottom of the dessert bowls, put a layer of pudding and a scoop of ice cream on top. Do it over and over until the bowls are completely filled. Leave the pudding in the refrigerator for a few hours.
Invite everyone to the table and enjoy this delicate creamy banana dessert.