Chocolate pancakes with ice cream
Back
DESCRIPTION OF THE DISH
Chocolate pancakes are an improved version of traditional ones. They are also made of eggs and flour based on water or kefir (cultured yoghurt), but with added cocoa or chocolate, which gives them a rich brown colour and an incredible smell.
The soft chocolate pancakes go extremely well and deliciously with tender 100% ice cream by RudTM. Or Super Chocolate (Supershokolad) ice cream, which turns them not just into a fantastic dessert, but into a mega-helping of chocolate pleasure.
The very image of warm chocolate pancakes with a ball of cool ice cream puts us in a good mood and causes an uncontrollable desire to enjoy them as soon as possible. So, do not be surprised if you would want to cook this delicacy more often: especially for breakfast to aim for a good day!
Company «Rud»
Chocolate Kefir-Based Pancakes with a Scoop of Ice Cream
The easiest way to make chocolate pancakes is to add cocoa to the dough, as in this recipe. However, the colour, taste and aroma of pancakes will be even richer if you use melted chocolate with a teaspoon of coffee instead of cocoa. And to make your pancakes soft and lush, you can use yeast instead of baking powder.
chocolate pancakes
Desserts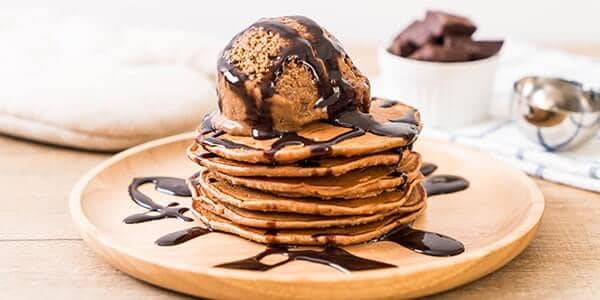 Steps to Make it
Step 1
Whisk eggs and sugar in a deep bowl.
Step 2
Add kefir and lemon juice to the egg mixture, add flour, cocoa powder and a teaspoon of baking soda. Mix the ingredients until smooth.
Step 3
Use a wet spoon to make 'islands' of dough on a pan preheated with oil and fry on both sides until golden brown.
Step 4
Make a pile of pancakes on a plate. Decorate with two balls of ice cream and optionally add your favourite topping, nuts, chocolate drops, berries, etc.
Flavourful chocolate pancakes with ice cream are ready. Bon appétit!