​Frenzy vitamin tea: energize yourself!
Back
By supporting the healthy food trend, the company "Rud" has launched the new Frenzy brand, which includes novelties of berry and fruit frozen fruits.

As part of the Frenzy line, we have already filled up the assortment portfolio with healthy trendy teas. Get the closer look at them below!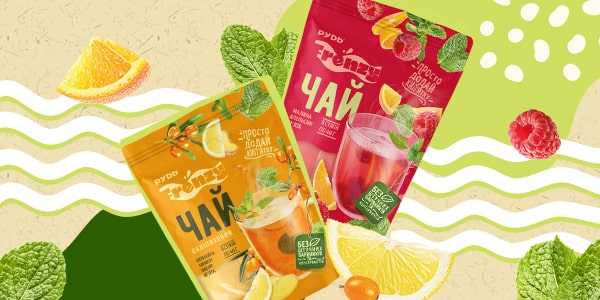 Frenzy mixes for useful tea party
Frenzy tea is a puree of authentic fruits and berries, produced without heat treating, dyes and taste modifiers. This product is absolutely natural and environmentally friendly.
The fruit and berry mass is packed in individual bottles, placed in a special convenient packaging with a Velcro fastening. So Frenzy tea is convenient to store and take it for the next portion of enjoyment.
Only natural ingredients inside
We carefully mixed the fruits, berries and herbs for Frenzy tea that are interconnected in the best way and created two original tastes for beneficial tea.
Raspberry taste combines sweet orange and flavory raspberries, complemented with leaves of refreshing mint. Seaberry taste consists of mega vitaminous seaberry, ripe lemon, spicy and herby ginger, the taste of which was enhanced by mint.
Vitamins are completely preserved
When producing Frenzy tea, only one preservation agent is used, which is cold, as the best way to store the product.
We use special technology such as shock freeze. What is its secret? It can be used on only selected ripe fruits and fresh herbs with the highest concentration of nutrients. After washing and processing, the products are cooled down to a low temperature with the help of special equipment as quickly as possible.
Due to a short time of freezing the fruits, berries and herbs completely preserve their taste and vitamins!
Frenzy as an alternative to black and green tea
Vitamin Frenzy tea is definitely a useful replacement for many black and green tea. After all, it does not contain caffeine: instead, it contains only natural ingredients, useful for consumers of all ages.
In addition, a drink made of Frenzy fruit and berry stuff is healthier and more practical than brewing up the packaged and loose tea.
Why?
Firstly, because of its individual sticks, you have a precisely defined amount of "brew" per serving which is ideally "strong". To be more precise, it is a concentrate of usefulness!
Secondly, because the harmful brewing of tea is impossible.
And thirdly, because of the absolute lack of residues.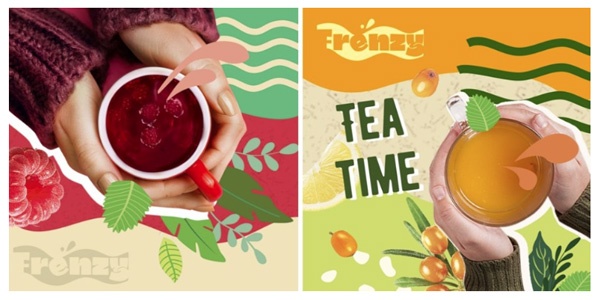 How to make Frenzy tea?
You can do it just in three simple steps!
Step one. Open the freezer and get a bright pack of Frenzy tea.
Step two. Take the stick and spread the fruit and berry puree into your favourite cup or kettle for brewing.
Step three. Cover with boiling water.
Enjoy the moment and every sip of flavory and vitamin tea!
You can watch how to cook Frenzy tea in a video tutorial on our YouTube channel.
Secrets of tea party with Frenzy
Frenzy tea is good to use at any time: just when it is necessary to get warm and recharge with fruit and berry energy. It is useful in its own way at any time!
However, for the early tea party, we recommend the Raspberry Frenzy. It consists of:
mint, which invigorates and energizes;
orange, which is rich in Vitamin C and enhances the mood;
raspberry, which stimulates appetite.
Make Seaberry tea in the evening, which contains the following:
seaberry, which relieves nervous tension after a difficult day;
lemon and ginger, which contribute to better digestion;
mint, which has an opposite effect than in the morning: it helps to relax and calm down.
Drinking at least one cup of Frenzy vitamin tea every day is a super-healthy habit, which warms you up, adds vitality and improves mood!
The one who already has such a habit shares it and other healthy secrets in the contest with hashtag #MyFrenzyDay. Find out the details on the Instagram page of the healthiest brand @frenzy.rud.ua and join us!
Company "Rud"
2019-02-27T14:14:03+02:00
2022-02-23T11:02:25+02:00
By supporting the healthy food trend, the company "Rud" has launched the new Frenzy brand, which includes novelties of berry and fruit frozen fruits. As part of the Frenzy line, we have already filled up the assortment portfolio with healthy trendy teas. Get the closer look at them below! Frenzy