The Healthy Salad Yoghurt
Back
The taste and nutritional value of the salad depend not only on its ingredients. It is the dressing that usually sets the tone!
As healthy eating is becoming more and more popular, it is desirable to use such a product that will fully preserve and complete the nutritional value of the salad.
Salad yoghurt from ТМ Rud is exactly the ingredient, a truly healthy trend, available in Zhytomyr stores. It is delicious and super healthy, being very light and containing only 3.2% of fats.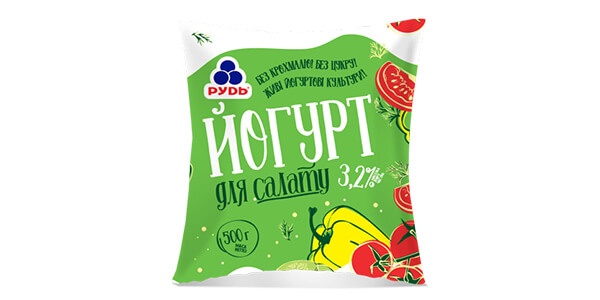 This yoghurt is meant for those who like dressing salads with mayonnaise, but want to keep up with the trends and look for a healthier substitute. Moreover, if you add spices, mustard, and greens, you might get the taste surpassing that of the mayonnaise!
Why Is It So Healthy and Delicious?
The Salad yoghurt contains cow whole milk, skimmed milk, and such bacterial cultures as Streptococcus salivarius subsp. thermophilus, lactobacillus delbrueckii subsp. bulgaricus. These are special friendly bacteria which improve digestion and consumption of nutrients.
No stabilizers or preservatives are used for the Salad yoghurt production. Also, it does not contain any sugar or starch!
Ideas for using the Salad Yoghurt
First of all, we recommend the yoghurt from TM Rud for salad dressings. But this is far from being the only use case for it! Thanks to its composition, taste, and pleasant thickness, the product can be used for other consumption purposes.
Light and Healthy Salad Dressing
The yoghurt from TM Rud is an extra healthy salad ingredient, which can be well combined with vegetables and herbs, or accentuate the taste of fish, meat, and seafood. Besides, the yoghurt tastes with fruit even better than sour cream.
Here are several ideas of the simplest salads, whose taste can be brought out differently with this yoghurt!
Celery, apple, cheese
Slice three celery stalks and an apple. Add 200 g of Rud lactic cheese and 200 g of Salad yoghurt dressing.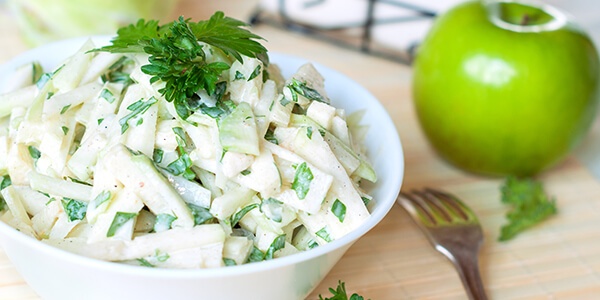 Egg, cucumber, avocado
Slice a hard-boiled egg, a cucumber, and an avocado. Dress the mixture with the dressing made of yoghurt, dill, lemon juice, and spices.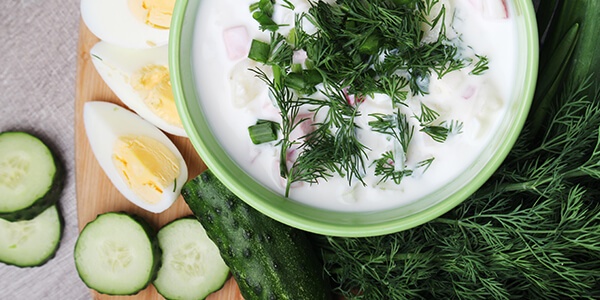 Chicken, grapes, nuts
Slice baked or grilled chicken fillet, add apple slices, raisins, nuts, and halves of the grapes.
Finish the dish with the dressing made of yoghurt, lemon juice, and a pinch of salt and pepper.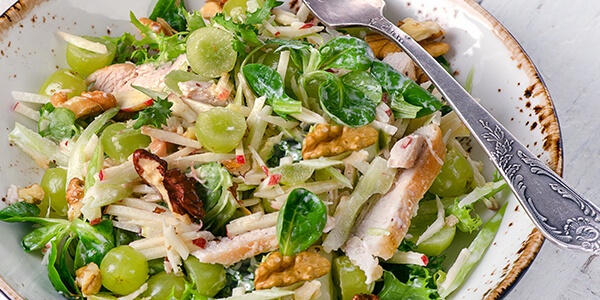 Fruit Salad
Cube kiwi fruit, add banana slices, orange and strawberry wedges, grapes, and pomegranate seeds.
Serve the yoghurt-dressed fruit mix in bowls and trim it with mint. Your dainty dessert for a special occasion or a healthy treat for children is ready!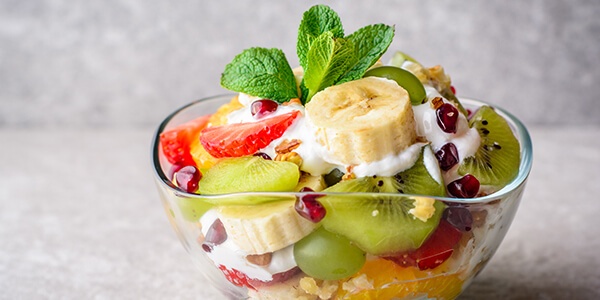 Healthy Nutritious Breakfast
By starting your day with the yoghurt from TM Rud, you activate your digestion and charge yourself with the necessary amount of energy and positive spirits!
Here are some well-tried breakfast options with yoghurt!
Frenzy Smoothie
The Salad yoghurt is a great base for cooking our Frenzy smoothie — a 100% natural product made of fruit, berries, and greens. It does not contain any colouring agents, taste modifiers, or sugar as the yoghurt does not either. That's why the combination of these ingredients is so healthy!
The Frenzy recipe is very simple:
Defrost the stick in the fridge or warm water.
Put the mass into the glass.
Pour it with yoghurt and mix thoroughly.
More hints and tips about Frenzy smoothie you can find in this article .
/image of the Frenzy smoothie/
Porridge in the Jar
Mix in the jar:
Cover the jar with a lid and shake it well to blend all the components. Leave the porridge overnight in the fridge and enjoy it in the morning.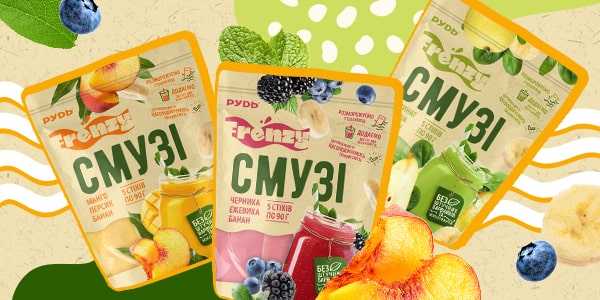 A Perfect Snack During the Day
Yoghurt is a healthy snack. Even those who keep to a diet can have it during the day due to low fatness of the product.
To benefit the most, substitute one of your lunch components with yoghurt. It will help to improve your digestion, and thus facilitate the consumption of food. The faster release of energy will boost your working ability.
A Component for Pastry and Desserts
As the Salad yoghurt does not contain either sugar or any additives, it is a flexible product that can be used for desserts (jelly, mousse, home-made ice-cream, tiramisu, panna cotta, sorbet) and pastry (cupcakes, cakes, pies, cookies). There are plenty of dishes that suggest using yoghurt.
Eat healthy and undeniably tasty food with the Salad yoghurt from TM Rud!
Company "Rud"
2019-05-27T17:28:08+03:00
2022-02-17T10:55:40+02:00
The taste and nutritional value of the salad depend not only on its ingredients. It is the dressing that usually sets the tone! As healthy eating is becoming more and more popular, it is desirable to use such a product that will fully preserve and complete the nutritional value of