World's Most Expensive Ice Cream
Back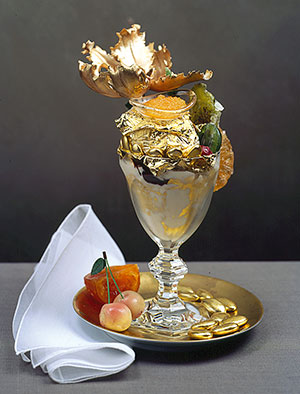 In the New York restaurant Serendipity you can taste an ice-cream that costs $1000. A dessert under the name Grand Opulence Sundae has an exclusive taste and has gained popularity of the celebrities. In order to prepare it, five ice cream scoops of the highest quality made from Tahitian and Madagascar Vanilla beans are placed in crystal glass and are covered by edible gold leaf and drizzled by the crumbs of the most expensive chocolate, Amedei Porceleana, and chunks of rare Chuao Chocolate beans, which grow on the Caribbean Sea coast in Venezuela. Then the ice cream is decorated with Parisian fruit and candied fruits, gold dragets, truffles and Marzipan cherries. The top is decorated with gilded sugar flower and a tiny bowl of Grand Passion dessert caviar.
As for the American company Bruster's Ice Cream, it has offered for sale the world's most expensive, but an inedible ice cream that costs $1 million. Jewelers of the Lazare Kaplan International Company got busy over creation of this precious cone. They enchased it with 622 grams of white and yellow gold, with 548 round diamonds, with 87 square emerald cut diamonds, yet the core ice cream adornment was a 5.63 carat Yellow diamond. The 152.16 carat was a total weight of the masterpiece.
As it is reported in the Bruster's Ice Cream company, this cone symbolizes excellent quality of ice cream of the company, which sells an ice cream in 260 locations in 18 American states, and also demonstrates an openness to social problems, for money from the ice cream's sale will be passed to the account of the charitable organization Big Brothers Big Sisters, which gives assistance to the poor children.
Company "Rud"
2016-01-12T15:31:39+02:00
2019-06-20T17:22:46+03:00
In the New York restaurant Serendipity you can taste an ice-cream that costs $1000. A dessert under the name Grand Opulence Sundae has an exclusive taste and has gained popularity of the celebrities. In order to prepare it, five ice cream scoops of the highest quality made from Tahitian and