HOME-MADE SOUR-CREAM-BASED TOFFEES
Back
DESCRIPTION OF THE DISH
Any foodie will love these delicious home-made toffees with a delicate creamy taste and seductive caramel flavour.
Even the little ones can munch on these sweets since they contain neither artificial impurities nor harmful flavours.
To prepare the home-made sweets, you need a minimal set of products and 20-30 min of time. The whole family can join in to create this culinary masterpiece. It's easy, and you'll have a lot of fun!
Company «Rud»
NATURAL HOME-MADE SOUR-CREAM-BASED TOFFEES
Desserts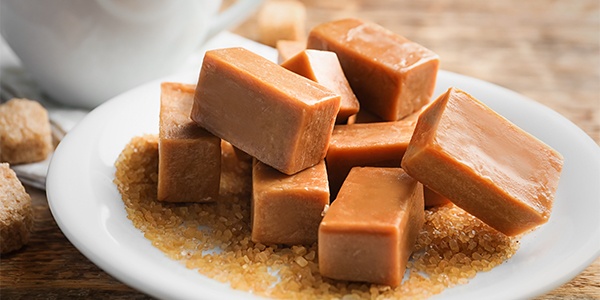 STEPS TO MAKE IT
Stage 1
Make the toffees in a thick-walled stainless steel pan. Don't use enamel cookware since sugar can burn in it.
Pour sugar and sour cream in the saucepan, put on medium heat, stirring constantly, and bring to a boil. The mixture will be getting thicker, so it is important to stir thoroughly all the time.
Stage 2
When the paste looks like condensed milk, reduce the heat and continue stirring until the sweet cream gets a rich caramel colour. Total time for heating the mixture is 20 to 30 min.
Stage 3
Remove the pan from the heat and add butter. Stir the paste thoroughly. Before toffees get chilled, pour it into moulds or spread on parchment, then cut it into small pieces.
Stage 4
Remove chilled toffees from the moulds and place on a plate. Serve these sweets with hot drinks: tea or coffee. Children will love eating them with lemonade.
Enjoy!