Kefir-based cottage cheese doughnuts
Back
DESCRIPTION OF THE DISH
Doughnuts, fritters, pampushkas, Berliners... This soft golden-crusted magnificent sweet pastry conquered the world! Carefully fried in sunflower oil, puffy home-made doughnuts have a heavenly aroma of fresh pastry and vanilla — they are truly irresistible!
There are many varieties of such delicious dessert food: filled with jam, chocolate, sprinkled with powdered sugar... To make your favourite fried dough dessert softer and more tender, add cottage cheese to the ingredients of the dish. And substitute yeast with such wholesome ingredient as kefir.
The secret to a perfect doughnut is in the careful preparation of home-made cottage cheese. Mash the cottage cheese to a homogeneous creamy mass with a blender and add in small portions to the dough. This will make the base for the doughnuts soft and lump-free.
To cook the puffiest cottage cheese doughnuts, heat the frying oil well. The golden flour ball-shaped pastry is fried very quickly in the boiling oil — be careful not to burn them!
Kefir-based cottage cheese doughnuts are great for breakfast or as a light snack. They are amazingly delicious when served with a glass of milk, a cup of tea or coffee. Light on the inside and crispy on the outside — those are the undeniable advantages of cottage cheese doughnuts when you would like to make something sweet for your family or house-mates, but have no desire to mess around with the dough for a long time.
Company «Rud»
Kefir-based sweet cottage cheese doughnuts fresh from the frying pan
Every sweet tooth dreams of a warm kefir-based cottage cheese doughnut fresh from the frying pan. And no matter how much nutritionists talk about the calorie content of the puffy confections, everything is useless: avid sweets lovers give the cold shoulder to lean treats, and the popularity of doughnuts is still growing!
Desserts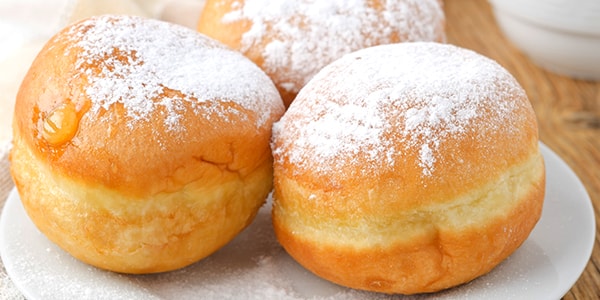 Cooking
Step 1
Whip eggs with sugar in a blender into a light froth. Add mashed cottage cheese in small portions, add vanilline, and mix thoroughly.
Step 2
Add half of the amount of kefir to the cottage cheese and egg mixture. Sprinkle the second part of kefir with baking soda and mix until kefir rises.
Step 3
Add kefir and soda mixture to the dough, add flour, and mix. The dough should be thick and soft.
Step 4
Heat the sunflower oil to a boil in a pan or a deep fryer. Put cottage cheese doughnuts in hot oil. To do this, wet a tablespoon in water, scoop the dough and use a wet finger to remove the doughnut into the boiling oil.
To make a ring-shaped doughnut, make a dough sausage with wet hands and join the edges.
While frying, the doughnuts will grow in size, become smooth, puffy, and even.
Step 5
Fry the doughnuts on low heat until golden brown. Put the cooked dessert on paper napkins, sprinkle with powdered sugar, and treat your loved ones.
Enjoy! The seductive aroma of whipped cream and vanilla will undoubtedly appeal to your favourite sweet tooth.