DESCRIPTION OF THE DISH
Starting the day with fluffy bright green spinach pancakes means getting a charge of energy and a great mood for the whole day.
Replace your usual sandwiches with these fluffy pancakes, as thanks to spinach and a special porous texture that absorbs sauces, they are incredibly juicy and delicious. And their rich aroma and pleasant "spring" colour bring everyone to the table.
Hearty spinach pancakes will easily fit a healthy meal plan because spinach leaves contain a large amount of vitamins, proteins, fibre, iron and retain their useful properties even after heat treatment.
For a uniform colour of pancakes, grind spinach in a blender until smooth. Add the flour in small portions to avoid the formation of lumps and achieve the desired consistency of the batter. It should be moderately thick but at the same time pour quickly enough down the spoon.
Company «Rud»
Golden-Brown-Green Spinach Pancakes
There is no need to fry spinach pancakes for a long time: as soon as bubbles appear on the surface, turn them over and fry on the other side. A light golden-brown crust means that the pancakes are ready. Serve with sour cream, cream sauce or thick yoghurt. You can complement the dish with fresh vegetables, meat or a piece of lightly salted salmon.
Second courses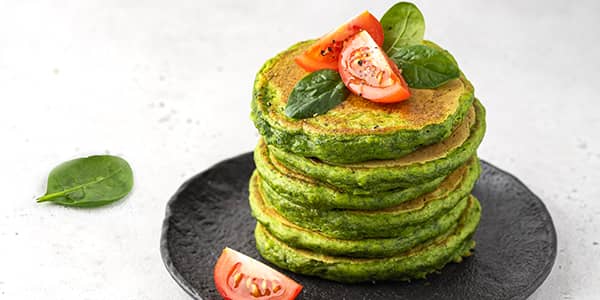 Steps to Make It
1. Mix sour cream, eggs, oil, salt and sugar in a large bowl. 2. Defrost the spinach, beat in a blender until smooth, add milk and then add it to the egg-sour cream mixture.
3. Sift flour, mix with baking powder and a pinch of baking soda. Add to the spinach mixture.
4. Spread the batter into a round with the spoon on a heated pan. Fry on both sides until done.
Plate the pancakes once they are ready, let them cool for a few minutes. Drizzle with sour cream and enjoy while warm.