Cauliflower Baked with Mushrooms
Back
DESCRIPTION OF THE DISH
When you have a cauliflower casserole with mushrooms on your dining table, lunch is going to be delicious and nutritious. This appetising dish is delicate inside and crispy on the outside, as it is cooked with sour cream and has a brown cheese crust.
Fried mushrooms add a special spiciness to cauliflower, while onions and carrots make it juicy and fragrant. Before serving, add some fresh herbs and enjoy a healthy fragrant dish!
And with Rud™ you will cook this vegetable and mushroom casserole much faster, since our vitamin mixes contain already prepared products. So you do not need to waste your time in the kitchen.
Company «Rud»
Cauliflower Baked with Mushrooms and Cheese in the Oven
Baked cauliflower with mushrooms is quite a hearty dish, so it can be served alone or as a side dish to meat or fish.
Second courses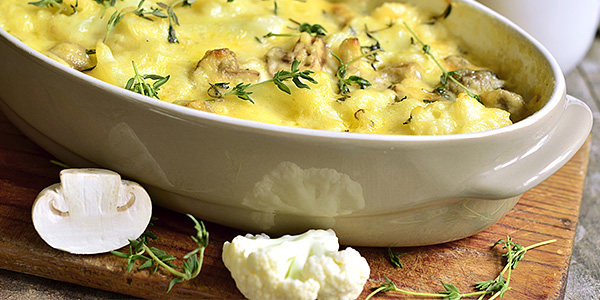 Steps to Make It
1. Put the cauliflower in salted boiling water and cook it for 12 minutes. Then put it in a colander and place it in a deep baking dish.
2. Slice the onion into half rings, grate the carrots on a coarse grater. Put the vegetables in a preheated pan, add some vegetable oil. Fry them over low heat until soft.
3. Slice the mushrooms and add to the vegetables. Salt and fry the vegetable mix for 6 to 7 minutes, stirring occasionally.
4. Put the roasted mushrooms with vegetables on top of the cauliflower.
5. Grate hard cheese on a medium grater and sprinkle it over the vegetables.
6. Take a deep bowl and break an egg, add some sour cream and a pinch of salt. Mix the ingredients. Pour the egg and sour cream mix on the cheese layer.
7. Put the cauliflower with mushrooms in a preheated oven. Bake it for 15 minutes at the temperature of 180 °C.
Add some fresh herbs to the dish, serve on plates and enjoy!