DESCRIPTION OF THE DISH
Stuffed fish is a hearty dish of Jewish cuisine with a juicy filling based on minced fish and vegetables. Appetising stuffed fish is traditionally considered to be a royal dish, because it has a luxurious look and extremely delicate taste.
The dish is usually made using large species of river fish, such as pike perch, grass carp or carp. However, pike would be the best option for an amateur, because its skin is quite easy to remove, it is dense and quite hard to tear. And pike meat is sweeter and contains a minimum amount of fat, so it is perfect for this dish.
It is important to use fresh fish for stuffing. After all, frozen skin is easily damaged, which would have a negative effect on the appearance of the dish.
Baked stuffed fish is sprinkled with herbs, it is decorated with patterns with the help of sauce, and then covered with ornately shaped pieces of vegetables and fruit. Deliciously cooked and beautifully decorated stuffed fish will be the queen of your holiday table.
Company «Rud»
Stuffed pike with salmon
Depending on the serving, stuffed pike can be an hors d'oeuvre or a stand-alone dish. This fish tastes good with boiled potatoes, rice, vegetables or baked apples.
stuffed fish
Second courses
Ingredients
| | |
| --- | --- |
| Pike (2 kg) | 1 pc |
| Salmon | 300 g |
| Lard | 100 g |
| Onions | 2 pcs |
| Egg | 1 |
| Carrot | 1 |
| Vegetable oil | for frying |
| White bread (long loaf) | 200 g |
| Milk by RudTM | 200 g |
| Salt, pepper | to taste |
| Lemon juice | 1 tsp |
| Mayonnaise | 2 tbsp |
| Mustard with seeds | 1 tsp |
| Lemon | 1 |
| Black olives | to taste |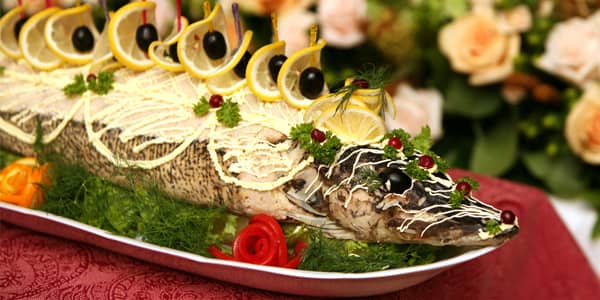 Steps to Make It
1. Descale the pike, remove the gills and entrails.
2. On the inside of the fish, cut the main bone near the head and tail so as not to damage the skin. Using shallow incisions, separate the carcass from the skin with a knife.
3. Debone the meat, make fillet and mince it with the salmon, onions and lard through a meat grinder.
4. Soak the loaf in milk, squeeze and add to the stuffing.
5. Peel a carrot, grate it finely and fry in vegetable oil. Add the carrot and the egg to the stuffing. Add salt and pepper.
Mix all ingredients thoroughly and beat the mass.
6. Fill the pike skin with minced vegetables and fish and sew.
7. Spread the fish on a baking sheet with the threads facing down.
8. Mix mustard, mayonnaise and lemon juice. Cover the pike carcass and head with sauce.
9. Bake in the oven at 180 °C for an hour.
10. When the pike cools down, decorate it with olives and lemon slices, make patterns with mayonnaise.
Enjoy!