Cauliflower Baked with Béchamel Sauce
Back
DESCRIPTION OF THE DISH
Centuries ago, cauliflower was rare on the tables of Ukrainians, as the vegetable cultivated in Syria could not be grown in Slavic lands, so it was too expensive.
But with the development of agriculture and the emergence of new healthy eating trends, cauliflower easily entered the menu of Ukrainian families. And thanks to convenient Rud™ ready-made foods, you can taste this healthy and low-calorie product not only during its season, but all year round.
Cauliflower baked with Béchamel sauce and generously sprinkled with grated cheese is an appetising dish with a delicate air-cream texture and a beautiful brown crust. The classic French sauce gives the dish its special juiciness, while garlic and oregano add a spicy flavour and bright aroma.
For the cauliflower to be crispy and not to fall apart in the process of cooking, add a slice of lemon and a few stems of dill to the water during cooking.
Take special care when preparing the sauce. When sautéing flour and butter, make sure the mixture gets nicely golden. For this, fry it only on low heat, stirring all the time. Add the milk gradually, in a thin stream to avoid lumps.
Cauliflower baked with Béchamel sauce is perfect for healthy and baby food — the dish is nutritious, low in calories and easily digestible.
Company «Rud»
Cauliflower Baked with Béchamel Sauce
Bake cauliflower for no more than 5 to 10 minutes to the keep most of vitamins and micronutrients.

This is a healthy side dish to serve with meat and fish. However, you can enjoy it as a separate meal: a feeling of fullness for several hours is guaranteed.
Cauliflower Baked with Béchamel Sauce
Second courses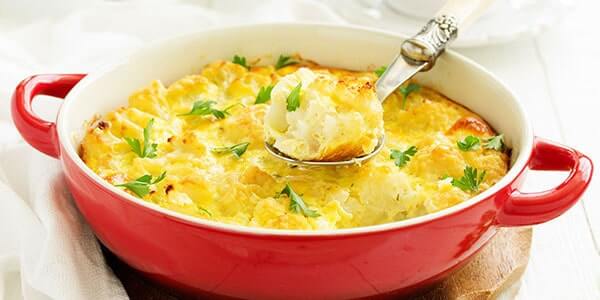 Steps to Make It
1. Bring two litres of water to a boil, add stems of dill, salt and a slice of lemon.
2. Put Chef Kuhar™ cauliflower in a saucepan with boiling water and cook it for four minutes.
3. Cook the sauce. Melt the butter in a separate saucepan. Add sifted flour and mix it quickly, warming the mixture on low heat.
4. After frying the flour, add 100 ml of milk to the pan and stir it with a whisk clockwise. Then add another 50 ml of milk, a pinch of salt and a little nutmeg. The sauce is ready.
5. Put the boiled cauliflower on a parchment-lined baking pan. Add oregano and Béchamel sauce.
6. Grate the cheese on a coarse grater, add mayonnaise and garlic passed through a press. Mix well. Spread the cheese blend over the cauliflower.
7. Preheat the oven to 220 °C and bake the cauliflower for 4 to 5 minutes.
Serve the ready-made cauliflower immediately!