DRIED APRICOT MUFFINS
Back
DESCRIPTION OF THE DISH
If you love home-made pastries but don't have time to make sophisticated desserts, this recipe of dried apricot muffins is for you! Easy and quick to make, these muffins with a variety of fillings are popular around the world.
Muffins with candied or dried fruit or berries are a great dessert for breakfast or evening tea. And they are quite easy to make: all you need is necessary ingredients and a little imagination. Experiment with filling, add lemon/orange peel, vanilla, or cinnamon, decorate your muffins with cream or fruit.
Company «Rud»
DELICIOUS SOUR-CREAM-BASED DRIED APRICOT MUFFINS
Baked products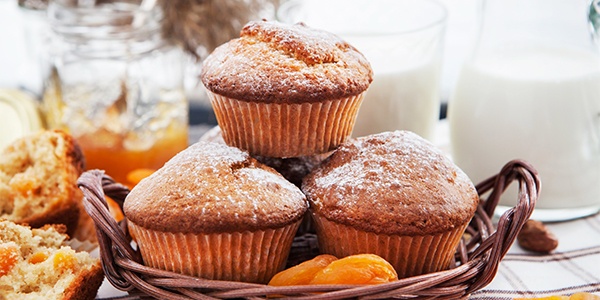 STEPS TO MAKE IT
Stage 1
Pour milk into a deep bowl, add sour cream, eggs, orange peel, and soft butter. Thoroughly mix all the ingredients.
Stage 2
Pour sugar, salt, baking soda, sifted flour into the dough. Thoroughly mix all the ingredients again. Cut dried apricots and add them to the dough.
Stage 3
Grease the muffin moulds with butter and pour the dough inside. Put the cupcakes in the oven preheated to 180 degrees. Bake for 20-30 min. After removing the muffins from the oven, leave them in the moulds for another 5-10 min. Carefully remove and serve. You can decorate your muffins with powdered sugar or mint.
Great with any drink, be it fragrant coffee, ginger tea, or cold lemonade. An ice cream ball or apricot jam will complement the dessert.
Enjoy!