Roasted crucian carp in sour cream
Back
DESCRIPTION OF THE DISH
Roasted crucian carp in sour cream is a traditional Ukrainian dish. Each family has their own recipe for cooking this freshwater fish. Some like carps baked in the oven, while others prefer them roasted in a frying pan until crispy.
To preserve the incredible aroma and sweet taste of carp, follow our recipe without much seasoning. Here, sour cream is the spiciest ingredient! To prevent it from spreading on the surface of the fish and to properly soak the carp, pick small carps that are slightly larger than the palm of a hand.
Company «Rud»
Delicious roasted crucian carp in sour cream sauce
Freshwater carps roasted in sour cream on a frying pan and in the oven. A simple recipe for a family dinner
Second courses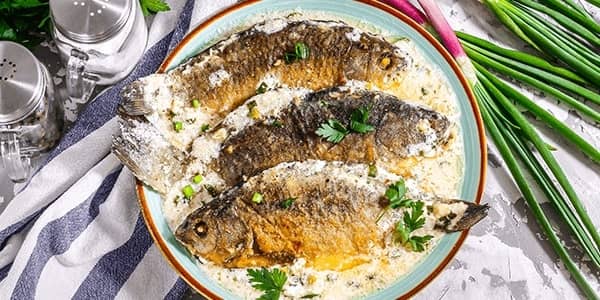 COOKING STEPS
Step 1
Take small crucian carps, around 150 g each. Carefully remove the scales. You can either remove or leave the fins. Cut and gut the carps, carefully remove the gills. Rinse the carps with running water.
Step 2
Put the washed fish onto paper towels to absorb excess water. This step is important because too much flour will stick to the fish if it's not properly dried.
Step 3
Pour 0.5 teaspoons of salt and 7~10 peppers into a mortar. Grind the spices well and season the crucian carps with them. Put the fish on a plate and leave to marinate for 20 minutes.
Step 4
Put the frying pan over medium heat, pour the vegetable oil, and heat it well. Roll the marinated carps in wheat flour and roast one by one until golden brown.
Step 5
Grease the baking dish with butter. Put the crucian carps in one layer so that they are baked properly. Top the fish with sour cream. Do not add any spices. Leave the dish with the carps for 20 minutes at room temperature so that the cream is evenly distributed between the fish.
Step 6
Preheat the oven to 230 degrees and set the fish to bake for 30 minutes. This time is enough to bake the carps well and give them a delicious golden crust.
Step 7
Arrange the cooked crucian carps on a large plate and serve decorated with finely chopped greens such as dill or parsley.
Best served warm to preserve the crispy crust, with baked potatoes or mushy peas for garnish. Enjoy!