Green Beans Stew with Mushrooms
Back
DESCRIPTION OF THE DISH
Green beans with mushrooms in sour cream sauce is a tasty and nutritious dish suitable for a hearty lunch or dinner. This recipe comes in a number of variations, different by mushroom types, sauce thickness, aromatic spices and greens.
The key secret of this dish consists in presoaked beans, which become soft and tender in the process of cooking. Beans prepared in advance will also save you a considerable amount of time for cooking. Thus, green beans stew with mushrooms is a perfect option for a quick meal after a long working day.
Besides their wonderful taste qualities, green beans are also very healthy. They contain proteins and fibre and perfectly clean the body from toxins and wastes decreasing sugar level in blood. Green bean dishes have become an integral part of the dietary and vegetarian menu as a delicious alternative to animal protein.
The original green bean recipe includes porcini. However, they can be substituted with any other mushrooms: button mushrooms, oyster mushrooms, bay boleti, birch boleti, yellow boleti. Instead of fresh mushrooms, frozen ones can be used too. It is preferable to defrost them in the fridge to preserve their flavour and nutritive value.
Company «Rud»
Green Beans Stew with Mushrooms
Second courses
Ingredients
| | |
| --- | --- |
| Green beans | 1 glass |
| Porcini | 300 g |
| TM Rud sour cream, 21 % | 200 g |
| Onions | 2 p. |
| Flour | 2 tbs. |
| Vegetable oil | 2 tbs. |
| Dill | a small bundle |
| Salt | to taste |
| Black ground pepper | to taste |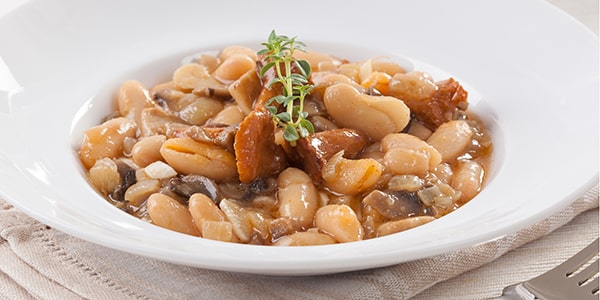 COOKING
Stage 1
First, soak green beans for 5–6 hours. If possible, leave them in water overnight.
Stage 2
After soaking, boil beans until they are ready in lightly salted water. Along with that, boil porcini for 15–20 minutes. Button mushrooms can be used raw, as they will be cooked during stewing. To stew ingredients, choose a deep pan with a thick bottom. A medium-deep pot or saucepan will also do.
Stage 3
Preheat the frying pan to fry finely chopped onions till soft.
Chop mushrooms in big pieces and add to the onions. Fry over medium heat till golden.
Stage 4
Use the stewpan to fry flour till lightly brown, add sour cream, a little bit of salt and pepper, mix well and heat for a couple of minutes (without boiling). Pour sauce to the mushrooms, add boiled beans.
Carefully mix all ingredients, cover the pan with a lid and stew over low heat for 10–15 minutes.
Serve the dish warm, decorated with a twig of dill. Savoury mushrooms and tender beans tempt even children's appetite, though they are not big vegetable lovers. Enjoy!