A fairy tale for kids-St. Nicholas Day
Back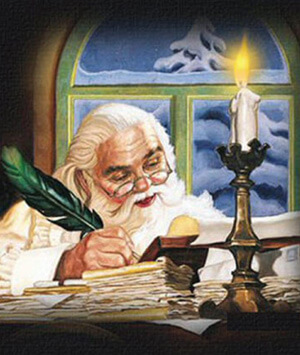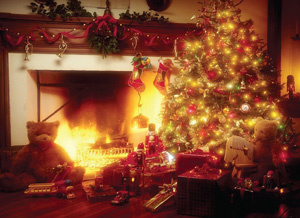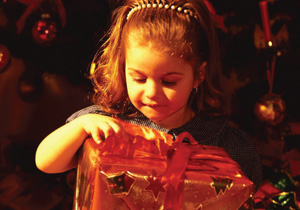 All of us look forward to the winter holidays. St.Nicolas Day, New Year, Christmas, Epiphany and other solemn days which bring hilarious rejoicing, entertainments, games, songs and dancing. Children always look forward to the 19th of December because St.Nicolas Day is the day of presents, high spirits.
In Ukraine St.Nicolas has always considered a protector of all kids. Children always wait for him this day. They know that St.Nicolas will bring them lots of presents "mykholaichyks" for their obedience and hard work. So they try to assiduous, benevolent during the entire year. On the night of the 19th of December Nicholas will put some presents for the obedient children under their pillow or stocking on the porch or in a clay soup plate which they put on the windowsill. And for the naughty kids St. Nicholas leaves a rod in the corner. Sometimes adults also give each other some presents. They give presents to those who have performed great deeds through the year.
The history dates back to the 4th century. The only son of wealthy Christian parents, Nicholas decided to refuse high life and consecrate himself to serving God.
Once a young priest got to know that his fellow-countryman who used to be wealthy and now a bankrupt was going to take his daughters to a brothel in despair. They could at least earn their living there he thought. Nicholas decided to help them out. So he throws a bag with gold in the window of the desperate man. Having got the money in such a magical way, the content father who had now a dowry for his daughter marries her off. The story repeats thrice. On the third time, the saved from disgrace man managed to see his secret benefactor. He recognized Nicholas in the loom of his night guest.
A story from "Life of the Saints" says that the beneficial and devout priest was soon appointed bishop Mirlikiiski (from the city of Mirra in the province of Likiya). The book says that he helped the poor and the ill. Several times did he save those who were unfairly sentenced to death and worked miracles. The legend runs that he could stop a sea storm with a prayer. He was reputed as the protector of sailors. St. Nicholas dies approximately in the year of 345 in December at the age of 65.
Greek calendars mention St.Nicolas Day celebration from the 9th century. From the Byzantine Empire the tradition of celebration spread all across the world. The Middle Ages numbered nearly one thousand temples of St.Nicolas in European countries.
In Ukraine people started to honor Nicholas since the times of Christianity introduction. On the night of December 19, Nicholas noiselessly comes to the houses with children and the same noiselessly puts presents under the pillows or into kids' shoes while they are sleeping. Most importantly, he gives them the presents which obedient girls and boys wish so much for. How does he know what presents kids want to get. Basically, on the eve of St.Nicolas Day kids write a so-called "letter-request" to the Saint, out it on the window and hope their dream will come true: either an angel or an invisible bird will take the letter. Thus Nicholas makes sure what presents kids are waiting for. If a kid cannot write yet, St.Nicolas will guess it.
What presents do the naughty kids get? Oh, there are really few naughty kids in Ukraine if any. They get a rod, but a thin and a short one. But if kid's parents will ask Nicholas for the present, he can give them at least a sweet or a mandarin to believe in miracles and know that there's a song to gain favors from the saint. "He who loves Nicholas, he who serves Nicholas, gets help from him all the time".
Sometimes even adults "beg for" a small gift. Sure, who minds gifts? Surely "Rud" ice-cream deserts will be desirable sweets for kids. In winter when parents don't allow their children to eat ice-cream outside, everyone can enjoy it at the table. So enjoy your "Rud" ice-cream.
Happy St.Nicolas day! Happy New Year and Merry Christmas!
Tortufo-ice-cream for a prince?
It should be tasted.
Ice-cream production is a real secrecy. Some unique sorts of Ice-cream recipe is a secret of famous chefs in Italian restaurants. The home to the world-famous "Tortufo" ice-cream is an Italian city of Pizzo. This sort of ice-cream was made specially for the visit of Umberto Savoia in 1943. Nowadays, 15 restaurants of the Italian city have their own "Tortufo" recipe which is kept as a family recipe. TM "Rud" offers you this masterpiece of art of cookery. Tortufo is a dessert ice-cream which is made of two halves, one is abed on grinded hazelnut and the other one is the taste of "Zabayone" ice-cream with chocolate icing on it.
Enjoy it!