DESCRIPTION OF THE DISH
Do you want to surprise your loved ones? Bake them an incredibly delicious and fragrant peach pie. The harmonious combination of caramelised fruit and delicate dough will make your evening cosy and special. Make a cup of coffee or tea, light candles, pick up rugs, and plunge into a hygge atmosphere. Keep this recipe in your notebook!
Company «Rud»
Flavoured cake with caramelised peach
This recipe proves that cooking goodies at home does not always require a lot of time and effort. We offer you a simple recipe for the delicious peach pie. Within less than an hour your kitchen will be full of baking scent. Do not wait, cut a piece of cake, because in a instant all your family will be eating it.
delicate peach pie
Desserts
Ingredients
| | |
| --- | --- |
| Dough: | |
| Sugar | 1 cup |
| Flour | 1 cup |
| Vologodske Butter by RudTM, 82.5% | 200 g |
| Eggs | 4 |
| Baking powder | 1 ts |
| Cognac (optional) | 2 ts |
| Filling: | |
| Peaches | 6 |
| Sugar | 4 tbs |
| Vanilla sugar | 1 ts |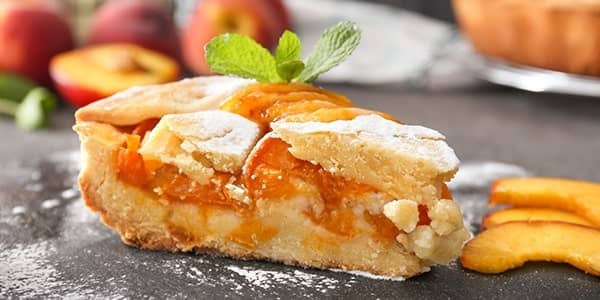 STEPS TO MAKE IT
Stage 1
Cut the peeled peaches into pieces, put in a frying pan, sprinkle with sugar, add vanilla sugar and fry over low heat. Caramelise peaches until half-cooked: the fruit should be soft and hold its shape without breaking apart.
Stage 2
Spread the peaches on the bottom of the baking mould and pour over with syrup formed during frying.
Stage 3
Start preparing the dough. Grate the butter with sugar in a deep bowl. Add the eggs and mix the ingredients thoroughly until homogeneous. Pour the sifted flour, baking powder and cognac. Mix the dough thoroughly.
Stage 4
Pour the dough onto the caramelised peaches. Put the pie in the preheated oven and bake at 180 degrees. Cooking time is approximately 30-40 min.
Stage 5
Take the ready pie from the oven and leave to cool down. Put it on a plate and decorate with powdered sugar or mint leaves.
Enjoy!