Vegetable casserole in the oven
Back
DESCRIPTION OF THE DISH
Juicy vegetables baked in a tender egg-sour cream filling are so temptingly fragrant… Golden brown vegetable casserole is a frequent guest at the dinner table in European countries, because it is healthy and low in calories, but extremely tasty and filling.
The dish is made of fresh seasonal or frozen vegetables. They give the casserole an appetising colour and enrich it with vitamins. Egg mixture and sour cream sauce gives the dish an airy texture and elasticity. And the cheese melted in the process of baking makes the casserole viscous and incredibly soft.
Rud company took care of everything so that you can cook with inspiration and maximum comfort! We took ripe vegetables, cut them carefully and quickly froze them to preserve all the benefits of fresh produce. The easiest thing is left for you to do – to open our convenient semi-finished product and add the selected vegetables to your favourite dishes.
Company «Rud»
Oven-baked vegetable and cheese casserole
To add spicy taste and bright flavour to the vegetable casserole, use spicy hard cheese or add a pinch of granulated garlic to the filling.

Vegetable casserole is served as a side dish or on its own: with fresh home-baked bread and herbs.
Vegetable Casserole
Second courses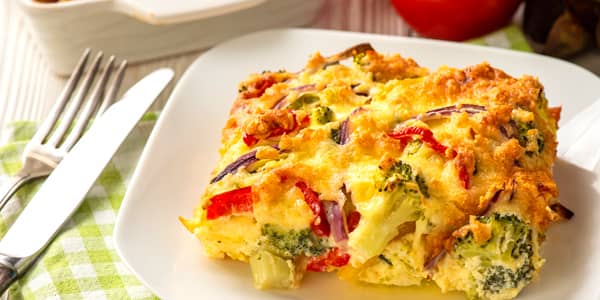 Steps to Make It
1. Put broccoli and Sauté vegetable mix in a pan and fry in vegetable oil for 10–15 minutes. Sprinkle with salt and pepper to taste.
2. Grate hard cheese with a coarse grater.
3. Combine eggs, cheese and sour cream in a separate bowl. Mix.
4. Grease a baking dish with vegetable oil. Spread the fried vegetables.
5. Pour the vegetable mixture with egg-cheese filling.
6. Preheat the oven to 180 °C, put the form with the vegetables and bake for 20 minutes.
Cut the casserole into pieces and invite everyone to the table!