Chicken drumsticks in sour cream sauce
Back
DESCRIPTION OF THE DISH
They could be your something delicious for lunch: chicken drumsticks in sour cream sauce.
Stewing in a fragrant mixture of sour cream, mustard and spices makes the meat soft and very tender. And when you add a little honey, curry and garlic to the marinade, you will get a dish with a rich spicy taste and a beautiful golden brown skin.
Read our recipe to learn how to make chicken drumsticks perfectly tasty and juicy, and delight your loved ones with appetising dishes every day! And the products by Rud TM are always there to make your culinary creations even healthier and more diverse!
Company «Rud»
Chicken drumsticks in sour cream and mustard sauce
Chicken drumsticks in sour cream go well with mashed potatoes, boiled buckwheat or stewed vegetables. Be sure to sprinkle the dish with chopped greens before serving. They will make it even more delicious!
chicken shanks
Second courses
Ingredients
| | |
| --- | --- |
| Chicken drumsticks | 8 pcs |
| Sour cream by RudTM, 21 % | 250 g |
| Garlic | 2 cloves |
| Lemon | 1 |
| Parsley | 1 bunch |
| Mustard | 1 tbsp |
| Curry, turmeric | to taste |
| Salt, pepper | to taste |
| Vegetable oil | 20 g |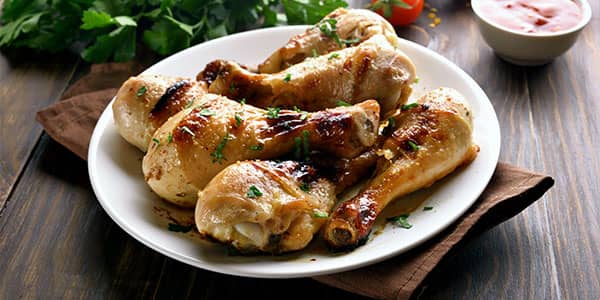 Steps to Make It
1. Wash the chicken drumsticks, let the excess liquid drain. Put the drumsticks in a deep pot.
2. Prepare the sauce in a separate bowl. Add lemon juice, mustard, chopped parsley, pressed garlic, salt and spices — curry, turmeric and pepper — to sour cream. Mix all ingredients thoroughly.
3. Pour sour cream sauce over the drumsticks, mix.
4. Grease a baking dish with vegetable oil, put the drumsticks with the sauce in it.
5. Preheat the oven to 180 °C and bake the meat for 50 minutes — until golden.
Enjoy!