Pasta with Cream Sauce
Back
DESCRIPTION OF THE DISH
'Gustoso!' Italians exclaim contentedly after tasting tender pasta with cream sauce. Along with pizza and lasagne, it is rightly considered the culinary heritage of Italy.
Try this delicious Italian dish and feel the unique taste of the local cuisine.
When choosing ingredients for pasta, use durum wheat noodles. It has a nice texture and does not fall apart during cooking. It also contains a large amount of fibre and healthy carbohydrates, making it a quality addition to the daily menu that will not affect your weight.
The most delicious pasta is cooked al dente. Do not rinse cooked noodles with water. Strain and immediately mix them with hot sauce. This way it will be absorbed better and give the dish the richest taste.
Company «Rud»
Pasta with Cream Sauce, Nuts and Herbs
You can replace cream in the sauce with sour cream or milk, adding toasted flour to thicken. Garlic and parsley will give incredible flavour to the sauce, and nuts will add spicy notes – just try it!

Serve pasta with cream sauce with meat, poultry, seafood. The dish tastes great with mushrooms and vegetables as well.
Pasta with Cream Sauce
Second courses
Ingredients
| | |
| --- | --- |
| Tagliatelle | 400 g |
| Onion | 1 |
| Parsley | 1 bunch |
| Garlic | 2 cloves |
| Hard cheese | 70 g |
| Walnuts | 110 g |
| Selianskyi Khutorok butter, 73% | 40 g |
| Cream, 20% | 300 ml |
| Salt, pepper | to taste |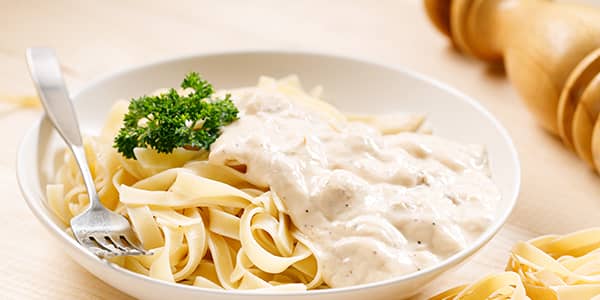 Steps to Make It
1. Peel garlic cloves. Peel the onion and dice. Chop parsley.
2. Grate hard cheese using a medium grater.
3. Put shelled walnuts on a dry frying pan and fry until pleasant smell. Remove the walnuts from heat. Chop the walnuts with a knife once cool enough.
4. Boil pasta for 10-12 minutes in a large cooking pot. Add a pinch of salt.
5. Make the sauce while the pasta is cooking. Put the butter in a deep frying pan and heat it. Add garlic cloves and fry on high heat until golden brown. Remove the garlic, as you will no longer need it.
6. Add the chopped onion and keep on low heat until golden brown. Add the parsley and fry the mixture for another 3-5 minutes.
7. Now add the cream, nuts and bring the contents of the pan to a boil. Reduce heat, add salt, pepper and cook the sauce until thick, while constantly stirring.
8. Discard the boiled pasta in a colander and put into a frying pan for a few minutes to stew it in sauce.
Dish the cooked pasta out on plates, sprinkle with grated cheese and enjoy.