Hutsul Banosh with Cracklings and Mushrooms
Back
DESCRIPTION OF THE DISH
Banosh is a colourful Hutsul dish made of corn grits and served with cracklings, fried mushrooms, and onions.
Banosh is traditionally served to guests in Western Ukraine. This thick and rich porridge is cooked with milk, cream and sour cream basis, seasoned with fragrant spices, and sprinkled with bryndza and fresh herbs.
Hutsuls claim that the dish should be stirred only with a wooden spoon and only clockwise. And the most delicious banosh is cooked in a pot on a campfire in the middle of the Carpathian Mountains.
However, it is easy to cook this delicacy even in your own kitchen if you have Rud products at hand! Our natural milk and the most delicate sour cream will make your banosh especially flavourful and appetising, and frozen button mushrooms will add incredible spice to the dish.
Company «Rud»
Traditional Hutsul Banosh with Cracklings and Button Mushrooms
Button mushrooms are perfect for cooking banosh, but they are easy to replace with any other mushrooms: the dish will be equally fragrant and filling. The porridge tastes best freshly cooked when it is still hot.
hutsul banosh
Second courses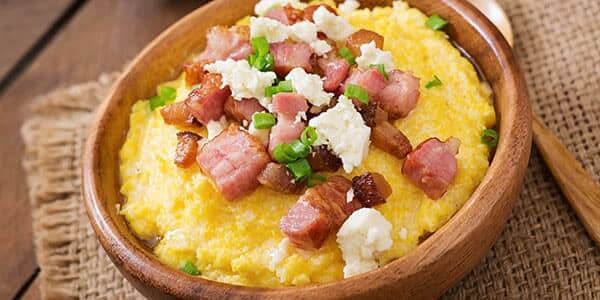 Steps to Make it
1. Cut the lard into small pieces and put them in a frying pan. Fry over medium heat.
2. Put the cracklings out on a plate, leaving the fat in the pan.
Put sliced button mushrooms in a pan, salt, fry until semi-done.
3. Peel an onion and dice it. Add to the pan with mushrooms, fry until golden.
4. Mix sour cream with milk, add a pinch of salt, bring to a boil.
5. Wash the corn grits. Add them to milk in small portions. Stir to avoid lumps.
6. Reduce heat and cook the porridge for 10-20 minutes until thickened.
7. Dish the cooked porridge, add cracklings, mushrooms and onions. Top with slices of cheese. Serve.
Enjoy!