Mexican casserole with meat and vegetables
Back
DESCRIPTION OF THE DISH
Mexican cuisine is as diverse and colourful as the local nature. So if your menu lacks "spice" and bright colours, don't hesitate to cook a Mexican casserole! Savoury blend of minced meat, vegetables, spices and cheese will definitely become your family's favourite meal.
To make the casserole nutritious and healthy at the same time, choose turkey meat or beef. Sweet paprika, cayenne pepper and Mexican taco seasoning make the dish smell good. And our frozen "Meksykanska" vegetable blendwill add juiciness, an appetising colour and rich taste to the dish.
The vitamin-rich Rud TM mix of corn, green beans, peppers, green peas and carrots is a convenient ready-made product for the Mexican casserole. And many other amazing dishes as well!
Mexican casserole tastes great with rice and vegetable salads. And it is traditionally served with wheat tortillas or nacho chips.
Company «Rud»
Mexican casserole with meat, mushrooms and vegetables
Fried mushrooms, cotija cheese and salsa sauce will add a spicy touch to the dish. The classic recipe is often complemented with home-made French Fries. Boiled black beans can be a great vegetarian substitute for minced meat in this dish.
mexican casserole with meat and vegetables
Second courses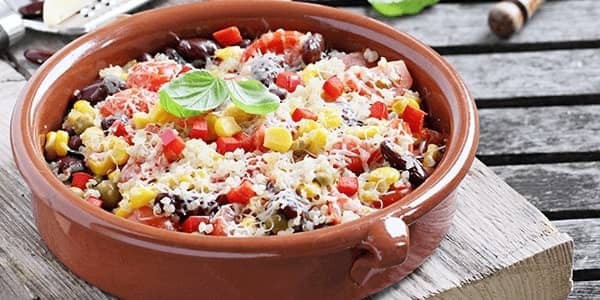 COOKING
Step #1
Chop the onions and fry them in vegetable oil until transparent. Add the minced meat and fry the mix for another 5-7 minutes.
Step #2
Fry the sliced mushrooms with garlic in another pan until cooked.
Step #3
Mix the mushrooms with the minced meat. Add "Meksykanska" vegetable blend and spices. Mix with some tomato paste, sour cream and ketchup. If necessary, add 50 ml of water. Simmer it with the lid on for another 6-8 minutes.
Step #4
Grease a baking pan, spread the mushrooms, vegetables and meat and generously sprinkle grated cheese over the dish.
Step #5

Preheat the oven to 180 °C. Bake for 20 minutes. Our fragrant Mexican casserole is ready! Add some fresh herbs and serve.